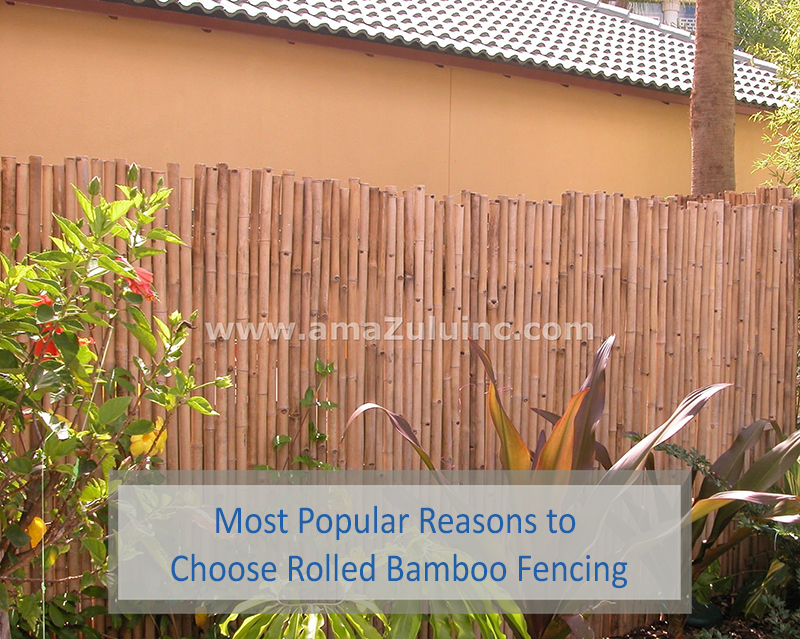 Top Reasons to Choose Bamboo Rolled Fencing
Don't overlook bamboo rolled fencing when designing your commercial landscape. It's an important architectural element that when done right is both practical and beautiful. Fencing is necessary for the perimeter of the property as well as separating the front of the house and back of the house operations. An alternative to a regular wooden fence is bamboo rolled fencing. It's a great way to provide safety for guests and privacy while enhancing the character of your property. Here are a few reasons to include bamboo fencing rolls for your property.
Rolled Bamboo Fencing is Aesthetically Pleasing
Theme parks, water parks, resorts and zoos love creating a tropical feel for their guests. Rolled bamboo fencing panels are an easy and cost-effective way to create a bamboo privacy fence. Bamboo Rolled Fences are created from 100% real solid bamboo poles that are strung together using galvanized steel wiring.
Bamboo Rolled Fencing is Easy to Install
Bamboo fencing is easy to install and complete changes to the look and feel of your property. Each bamboo rolled fencing panels are 4′ x 6′ or 4′ x 8′ and are delivered in one piece. There is no assembly required. Simply unroll and adhere to a permanent fixture to transform the space. Check out our installation instructions for rolled bamboo fence products
Choose Fencing that is Eco-Friendly
Rolled bamboo fencing is a strong "wood" that is actually a grass. Bamboo is one of the earth's most renewable resources. Once the mature bamboo is harvested, farmers replant their fields and another harvest is ready three years later. It takes pine trees as long as 30 years to be ready for the next harvest. This makes bamboo one of the most eco-friendly building materials you can find.
There are many species of bamboo available. Although bamboo regenerates quickly, it is important to work with a trusted bamboo supplier.
Additional Reading:
About amaZulu, Inc.
amaZulu, Inc. has hand-selected manufacturers who produce the eco-friendly, high-quality natural bamboo. We can present a dynamic list of options when considering the environment. amaZulu, Inc. is the preferred source for architectural-theming materials. Our products include thatch panels, bamboo and eucalyptus poles, decorative wall and ceiling coverings, natural screens and woven boards, rustic fencing and thatch umbrellas.
amaZulu, Inc. extends its 18 year legacy beyond business to the community. We've partnered with domestic and international organizations that create economic opportunities for its communities. It is our goal to reduce poverty and improve the lives of people who grow and create their products. Get started with amaZulu Inc. by calling 877-243-5309 or fill out our Get a Quote Form below.
Tags:
bamboo fencing