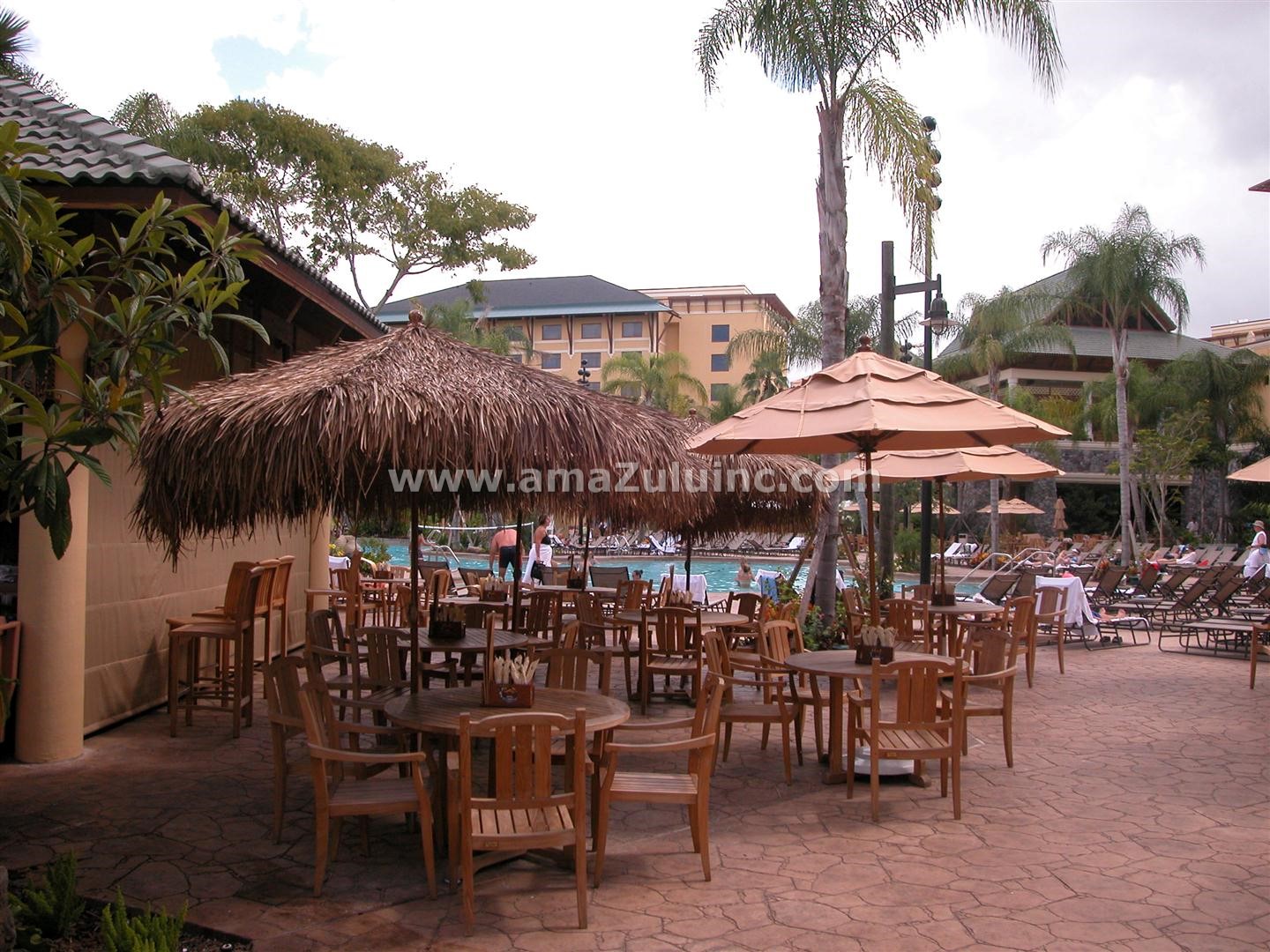 Why Use Thatch Umbrellas over Regular Canvas Umbrellas?
It's undeniable that canvas umbrellas come in so many different colors and sizes, but nothing creates a more tropical environment than using thatch umbrellas. We've outlined a few reasons why thatch umbrellas are better than using ordinary canvas umbrellas. Either natural thatch umbrellas or synthetic thatch umbrellas are equally sought after over canvas umbrellas. Hopefully, you'll agree with us.
Thatch umbrellas are cooler than canvas umbrellas
There are many reasons to choose thatched umbrellas for a resort or themed landscape installation, but our favorite has to be this "cool" fact. Thatch umbrellas produce a cooler shade (approximately 10-15 degrees cooler) as opposed to canvas covers. They are cooler because warm air can escape through the thatch.
In a hot climate, that difference makes a big impact. Your visitors will go home remembering the breezy relaxation they experienced instead of a nightmare they endured in the heat.
Thatched umbrellas require less work and last longer
Another great feature to thatch umbrellas is that they can be installed once and left open. They don't have to be opened and closed daily, a detail that your staff will appreciate.
The low maintenance benefit also diminishes the wear and tear on the umbrellas. This fact is true for both our natural and synthetic thatch umbrellas.
Since canvas umbrellas have to be opened and closed constantly, the pins and fittings often break. Thus, increasing your costs when the canvas umbrellas need regular maintenance and repairs.
The reason our thatch umbrellas don't need to be closed is that the thatch panels clip onto a round rebar. When the wind blows, the panels gently lift at that clip allowing the wind to pass through. This prevention of wind uplift is an important practical aspect of our umbrella products.
Thatch Umbrellas create an authentic atmosphere
In addition to the practical benefits, thatch umbrellas set the mood for a resort or themed area. They provide a tropical and relaxing feeling. While canvas umbrellas don't signify a particular architectural style or establish a clear sense of place, thatched umbrellas do.
Picture a Key West resort, a beachside retreat in Hawaii, or a tropical theme park seating area without thatched umbrellas. When this iconic element is missing, the scene is less compelling, and there is a sense of something being missing.
The benefits of Synthetic Thatch Umbrellas
Long lifecycle reduces the per year cost of your projects.

Recyclability helps the environment and can contribute to LEED points.

Can be treated with Fire Retardant to increase safety.

Sun-resistance keeps your facility looking new.

A product you can trust.
Are you ready to go with Thatch?
If you're interested in using Thatch umbrellas, we would love to help you! amaZulu, Inc. offers high-quality thatch products for all of your eco-friendly and exotic projects.
Contact us today for more information or give us a call, toll-free at 877-243-5309.
Related content and products:
How It's Made: Synthetic Thatch Roofing
A Look at the History of Thatched Roofing
Why Thatch Is Becoming The Go-To Roofing Choice For Backyards
Benefits of Building with Thatched RoofsSave
Save
Tags:
Artificial Thatch
,
canvas umbrellas
,
Synthetic Thatch Umbrellas