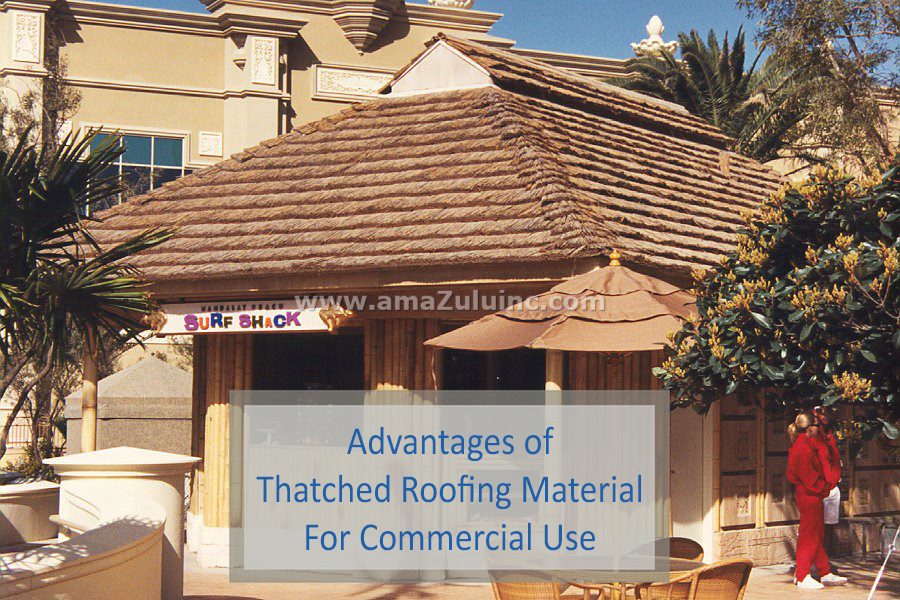 Advantages of Thatched Roofing Material For Commercial Use
Thatched roofing material sets the tone for relaxation. They are perfect for a resort pool, zoo dining experience or at a beach park. Thatch roof pavilions will never go out of style. We've listed many of the advantages of using thatch roofing materials in your next commercial project.
Developers know that thatched-roof gazebos and cottages are irresistible for couples and families on vacation. Nothing says "chill out" like a thatch roof (although a margarita doesn't hurt either). If your building project specifies a thatched roof, consider these two options: Natural thatch and synthetic thatch are both eco-friendly. One is a naturally-harvested material made from fast-growing reed or palm; the other is made from recycled plastic.
Both are easy to install, and our versatile thatch roof panels don't require that you hire an artisan like you would have to with traditional thatch. You can even install thatch on a preexisting roof–all you need to do is attached a wood lattice to the roof first for support.
Our thatched roofing material has other advantages:
SAFE: Can be treated to make them class A fire-retardant, and we provide a certificate for your fire marshal
CUSTOMIZABLE: Work with straight and undulating roofs; panels will conform to roof contours
WATERPROOF: Panels attach to an existing sub-roof or become 98% waterproof if installed at a steep gradient directly onto batons.
amaZulu, Inc. has hand-selected manufacturers who produce eco-friendly, high-quality natural architectural materials to present a dynamic list of options when considering the environment. amaZulu, Inc. is the preferred source for architectural theming materials, including thatch panels, bamboo and eucalyptus poles, decorative wall and ceiling coverings, natural screens and woven boards, rustic fencing, thatch umbrellas and synthetic tile roofing.
Additional Reading:
amaZulu, Inc. extends its 10 year legacy beyond business to the community where they partner with domestic and international organizations that create economic opportunities to reduce poverty and improve the lives of people who grow and create its products. Call us at (877) 243-5309 to speak to one of our design consultants today.
Tags:
Thatch Roofing
,
Thatch Roofs