DIY Friday: 6 Bamboo Valentine's Day Gifts for Your Sweetie
6 Romantic Bamboo Valentine's Day Gifts
It's no secret that we love anything and everything bamboo at amaZulu, so in the spirit of Valentine's Day, we wanted to share some great and unique DIY ideas we found that will melt your significant others' heart. Check them out!
1. Make Your Own Bamboo Candle
Who doesn't love candles? Especially when they're as beautiful as these! A bamboo candle is actually quite easy to make, thanks to the Martha Stewart! Here's what you'll need:
A saw
Some wax
A double boiler
A large wick

First, you'll need to take your saw and cut the bamboo canes at various lengths. They need to have flat bottoms so you can set them down without them getting wax everywhere. Bamboo is a great material for candles, because they are segmented, giving them built-in shelves to hold the wax!
Next, take the wax and melt it in your double boiler. Then pour enough of it into the bamboo you just sawed in order to evenly coat the shelf surface. After this, insert your wick and let the wax harden around the bottom. Fill the rest of the bamboo cane with wax, almost to the very top.
Let it cool for four hours and then trim the wick. These will be beautiful and a romantic addition to your Valentine's Day evening, and your sweetie is sure to enjoy the time and effort you put into these beauties!
2. DIY Cross Stitch Bamboo Pendant

The cute DIY Etsy shop, RedGateStitchery, has a bunch of great DIY kits you can purchase, including this adorable heart pendant! The pendant is made from eco-friendly bamboo (amaZulu approved!) and it comes with pre-cut holes that you simply stitch your colored fabric into! Included in the kit are:
The bamboo pendant
A 19-inch chain
One tapestry needle
Cotton embroidery floss (color varies)
A stitching chart
The shop owner claims that this fun DIY gift is perfect for beginners and expert cross stitchers, so no fear if you've never picked up a needle! It's a perfect little gift for the embroiderer in your life, and they'll love that you did it yourself!
3. DIY Reed Diffuser

This gift is as easy as 1, 2, 3! Everyone can appreciate a cute and simple piece of artwork that will also make your house smell lovely. Some reed diffusers can cost anywhere up to $30 — this one will only cost you around $3! All you need to do is run to your local Walmart or Target and pick up some bamboo skewers, a stylish vase, and some environmentally friendly fragrance oils. Maybe a nice eucalyptus scent?
Your significant other will love this simple, yet a sophisticated gift. And why not? It's so easy! We want to go out and make one right now…
4. Create a Bamboo Shadow Box
Shadow boxes are always a lovely and very personal gift to give a friend or loved one. And they're surprisingly easy to make! Simply create a homemade box out of something like our woven bamboo plywood. Take the pieces and measure out the length you want your sides to be, then saw each piece to the desired length. Use nails to join the edges of your box, and sand off any rough edges.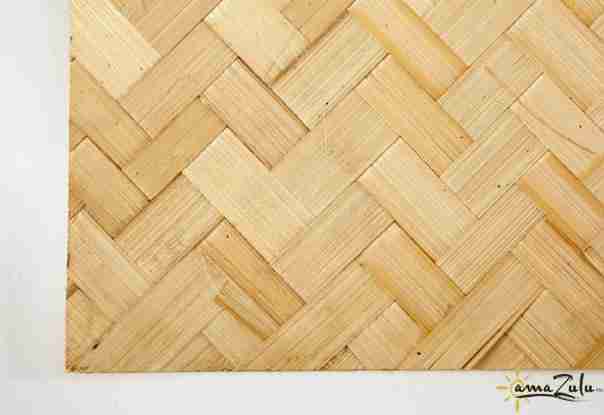 Use another piece of the plywood for the back. This can either be glued or nailed into place. If you want to get really crafty, you can even place some decorative screens such as peeled reed to set the background apart from the rest of the box.
The next part requires you to know your partner's interests and hobbies. Find little figurines, keepsakes, and items to glue into the shadow box that let remind you of them. Maybe the quarter you kept from the first day you met or the ticket stub from your first date! You can really get creative here, and your significant other will definitely appreciate you for it!
5. Make Your Own Drink Holders

These will keep the sand off your icy beverage at the beach! Any beach-goer would love these tropical drink holders. These are actually pretty similar to the bamboo candles from above! You'll need:
Decorative rope (or anything else you wish!)
Thin bamboo or stake
Start these off the same way you would the candles. Saw the bamboo cane off at various lengths, using the natural shelf as the bottom of the drink holder. Make sure you saw the tops at angles so you can grab your drink with ease! Take the skinny bamboo and glue it to the bottom of the bigger piece. Then simple glue rope or some other decorative ornament around the top trim of your drink holder! It's that simple, and totally innovative! Doesn't it just make you want to go to the beach right away?
6. Bonus! Heart-Shaped Bamboo Plant

Not much of a DIY-er or running low on time? Buy your sweetie a simple, yet elegant heart-shaped bamboo plant for their desk or bedside table. Every time they glance at it, they'll think of you. Simple and sweet!
.
We love bamboo at amaZulu and we hope that these simple DIY ideas for Valentine's Day gifts will delight your partner this year. Thinking of surprising your sweetie with an even BIGGER project? Our inventory includes a large supply of natural and artificial materials that are great for your home and completely renewable. No project is too complex for us; we want to turn your dreams into a reality. Give us a call at 877-243-5309 today!
Save
Tags:
Valentine's Day