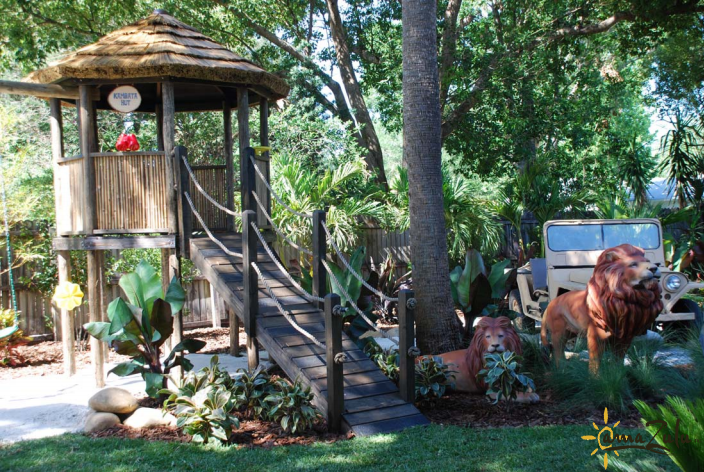 Project Showcase: Make My Backyard Disney
An African Village in your Backyard
Imagine walking into your backyard and being immediately immersed into a theme park fantasy land such as Disney's Animal Kingdom here in Orlando, FL. This isn't just something dreamed up inside our heads — the team here at amaZulu actually made this happen! In 2011, production studio JayTV approached us and asked us to brainstorm and build a fun "African Village" for a family's backyard that would appear on an episode of My Yard Goes Disney on HGTV. They envisioned a play area straight out of the jungle, with beautiful plants, colorful animal statues, and of course, themed bamboo huts to finalize the scene. We jumped at the chance to take part in such a creative and FUN project! Their wish was our command!
What Was Included

This great project consisted of building three, connecting African-style bamboo huts — the tallest one reaching 16 feet! Altogether, the huts stretched 46 feet and included slides, swings, bridges, ramps, stairs, and a fireman's pole. The whole scene was complimented by lush plants, fun and colorful jungle animal statues, and even a safari Jeep for the kids to play in.
The amaZulu team put a lot of work into making this dream a reality! We used sustainable materials such as eucalyptus, bamboo, and artificial thatch from three different countries. Each hut was carefully crafted inside of our warehouse in Clermont, FL and later transported to the residence for installation. Good thing we have so much space — these huts were big! The smallest ones reached 12 feet while the biggest spanned up to 16 feet tall.
How It Was Made

Our carpenters took meticulous care to construct the huts without overlooking any corners or crevices. We wanted the huts to be 100% sturdy to last throughout years of play and changing weather conditions. The roofs were made out of thatch reed panels, a synthetic thatch that closely resembles the traditional thatch used in Africa. The synthetic material was perfect for the family's backyard, as it requires much less maintenance than natural thatch and stands up well to Florida's weather conditions.
The huts themselves were made from pressure-treated eucalyptus poles from South Africa. We chose eucalyptus because it is an extremely hard wood that is resistant to rot. For added structure, the poles were sunk into the ground and finished with concrete to create a firm foundation. The railings of each hut were made from bamboo poles to create a rustic and unique look.
The Final Result
This extreme play area took the amaZulu team weeks of planning and three days of intense renovation, along with plenty of secret backyard meetings and a lot of teamwork! The family of eight was extremely surprised and excited to see their new, fun, Disney-themed backyard and the amaZulu team was proud to have taken part in making their dream a reality. To this day, the "Make My Backyard Disney" project was one of the most rewarding projects we have been a part of. The JayTV crew were so helpful and easy to work with and it was great to bring the two teams together to create something so amazing!
There's nothing better than helping our customers create the backyard of their dreams! You can do this too — you may not want to go quite as "all out" as this particular project, but you can definitely incorporate bits and pieces to turn your backyard into the talk of the neighborhood, whether with a kid's play paradise or an island oasis.
The amaZulu team would love to help you make this dream a reality! Our materials are all resource responsible, sustainable, and sourced directly from vendors in countries throughout the world. If you think we can help you out, give us a call at 877-243-5309. No project is too big or small!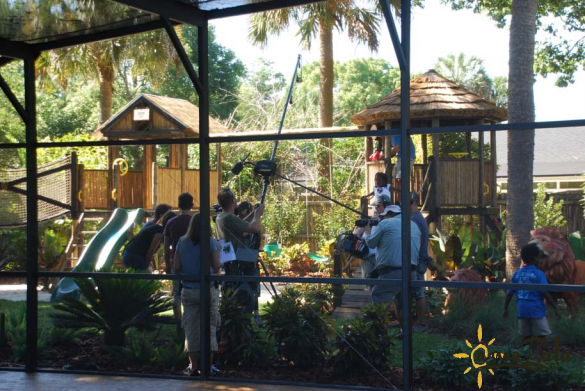 Materials Used:
Want to see more about this project? Go here!
Save
Tags:
Backyard