Product Spotlight: Faux Fancy Shake Tile
Create Uniqueness with Faux Fancy Shake Tiles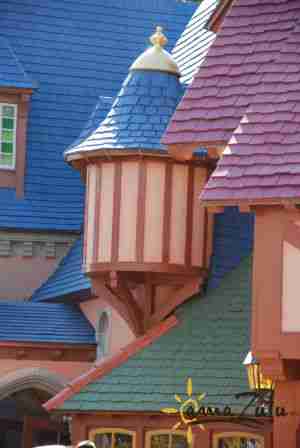 No one enjoys roof maintenance.
.
The roof is the part of your home, office building or store that faces the elements the most; whether it's intense sunlight, pouring rain, or freezing temperatures, your roof should be able to stand up to anything that comes at it so that you don't have to constantly climb up there and repair it. But sometimes roofs are tough. They can be pricey, especially if you want something that is not only durable but beautiful as well. For instance, natural cedar shake roofs are a gorgeous addition to any home, but many homeowners and building managers refuse to invest in it because of the hefty price tag and the large amount of maintenance required to keep it lasting throughout the years.
.
Guess what? There's an alternative! Faux fancy shake tiles look indistinguishable from natural cedar shake, but without the hassle and added cost! If you don't know about this great investment, allow us to introduce you!
Why Not Natural?
Some may choose to invest in natural cedar shake tile for their roofs, but while it's beautiful, there are some glaring disadvantages that come with it. For instance, many companies that carry natural cedar tiles have inconsistent sizing — one side might be 1 inch thick while the other is 1/4 inch thick. This makes it even more difficult to get a beautiful and, more importantly, flat roof, at least without a ton of added hassle. If not installed correctly, these inconsistencies can lead to leaking, mold, and insect infestation.
Natural cedar shake tiles are also a pain when it comes to fires. It's possible to treat your cedar shake, but very rarely will the tiles reach above a Class B Fire rating, and this might come as a warning sign to your insurance companies. Cedar shake roofs also require much more maintenance such as debris removal, cleaning to remove algae, fungi, and moss buildup, as well as the addition of wood preservative over time. With absolutely no maintenance, natural cedar shake roofs average about 10 years until you need a replacement. Seem like too much work?
Opt for Faux Fancy Shake!
If the above seems like just too much work for you, there's an alternative answer out there. Faux fancy shake tiles look just like the natural thing, but they are much easier to maintain, more cost-effective, and come in virtually any color you can imagine! At the fraction of the cost and weight of natural shake, faux shake can be easily cut with a utility knife or straight edge — no saws are needed! They are also manufactured with ribs on the back to ensure durability, grip, and strength over time.
Concerned that faux shake might look, well, too fake? The tiles are cut with varying widths and shades to ensure that they look as natural as possible. Natural cedar shake is slated to last around 10 years at most — faux shake can last up to 50 years! It is crafted using 100% pure virgin resins to maintain color and resist sun-fading. It also resists curling, cracking, mold, algae, fungi and insects — unlike natural cedar.
.
Worried about fires? Don't! Our faux cedar shake has been fire-tested, with a Class A Fire rating, so you don't have to worry about your new roof going up in flames. The non-porous material resists water absorption, which can lead to freezing and thawing issues in the colder months. And the best part? Faux fancy shake tiles are completely sustainable — no trees have to be cut down and the materials are 100% recyclable! They also require little to no experience to install and come in plenty of natural and vibrant colors.
Where Can it Be Used?
Faux fancy shake can be used on both residential and commercial projects! If you're planning on stopping by Walt Disney World here in Orlando, FL anytime soon, check out some of the buildings over in the new Fantasyland! That's right — Disney used faux fancy shake tiles on the roofs of their fairytale buildings. It can be used for anything! On the more "realistic" side of things, we've also installed faux fancy shake on residential homes as well. Whatever your project, faux fancy shake tiles will fit your decor wonderfully, and last you decades!
Thinking about updating your roof? At amaZulu, we carry faux fancy shake tiles that come in a variety of colors and thicknesses. If you wish to simply reinstall the roof on your own home, or even if you want to give your hotel or storefront a great facelift, our faux fancy shake tiles can get the job done. And we would love to help!
Give us a call at 877-243-5309. Our passions come together with your visions to turn your dreams into a reality!
Tags:
Faux Fancy Shake Tiles