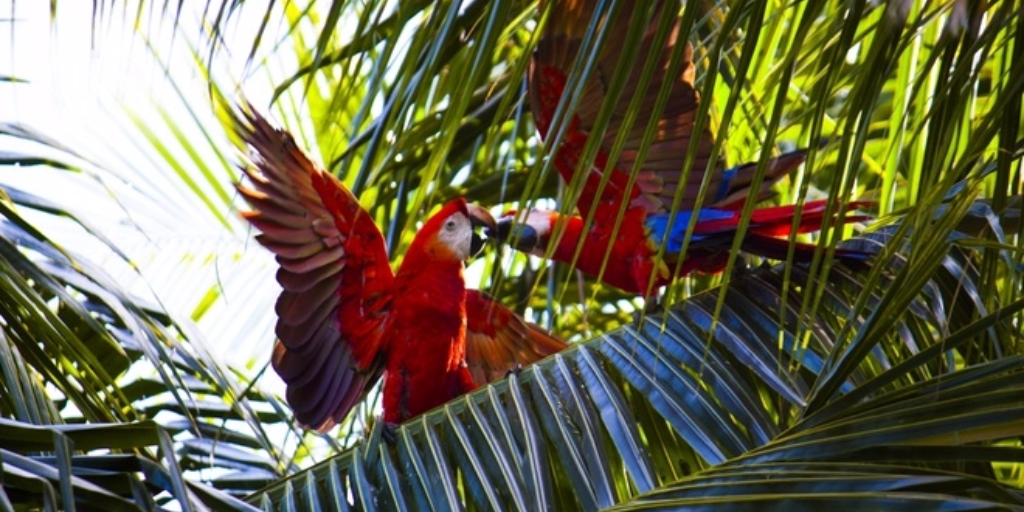 4 Ways to Create the Perfect Parrothead Party Accessories
It's Parrothead Party Time
It's Parrothead Season and you know what that means: plenty of margaritas, cheeseburgers, hula skirts, and beach-themed parties! At amaZulu, we absolutely love this time of year because Jimmy Buffett fans aren't afraid to get creative. Each year, the crafts and beach-themed projects get even better, with innovative uses for products like bamboo, thatch, ropes and nets, and decorative coverings.
If you're traveling to Tampa or West Palm Beach in the next two weeks to see Jimmy perform live, you've only got a few days left to impress your fellow Parrotheads! We've compiled some of our favorite beach-themed DIY Parrothead Party accessories that we think will blow your friends out of the water when you're lounging in Margaritaville, eating a Cheeseburger in Paradise. Check them out, and if you know of any more, let us know on our Facebook wall or send us a quick tweet. How creative can you get?
Bamboo Canteen & Cups
The weekend doesn't start until you've got plenty of festive drinks to go around. Why serve margaritas in plain red solo cups when you can impress your friends with a hand-made bamboo canteen and accompanying cups? Here's how:
Take a decent-sized bamboo cane and cut it so that two solid pieces (nodes) are at each end. You should not be able to see through the bamboo cane at this point.
Take a knife point and carve a hole into your section of bamboo
Create a stopper out of a piece of wood or more simply, with a cork
Fill with beverage of your choice and fasten with wood stopper or cork
And there's your canteen! But what canteen is complete without some stylish bamboo cups to go along with it? Here's how to create these:
Take a piece of bamboo and cut below the node so that your cup has a natural bottom
Trim the bamboo to desired cup length
Take a sanding bit and dremmel and sand off the rim and inner layer of your cup; this prevents the flakes from coming off in your drink
Coat your cup with food-grade wax or sealant, such as Butcher Block Conditioner, found at Home Depot
Apply this coat up to 3 times and let dry
These cups are great to have even after your party is over; they also make great gifts!
DIY Rope Lights
These rope lights are so simple, you won't be able to believe you haven't done it before. And it looks great not only for themed parties, but in your home or backyard as well. Simply take some rope and a strange of white Christmas lights. At the female end of the lights, start weaving the strand with the rope by twisting the rope in the opposite direction of the braid. Keep doing this until almost the entire string of lights is intertwined with the braid. You can drape your rope lights anywhere you'd like, or set them on the floor or a table as a great conversation starter. They're rustic, beachy, and beautiful!
Upcycled Tire Ottomans
Got some spare tires around? This one is a little bit trickier, but all those other Parrotheads will definitely wonder where you picked these great rope ottomans up. Here's what you'll need:
A new or used tire
Bamboo plywood or medium density fiberboard cut in circles with a 55cm diameter
6 screws
A drill
A screwdriver
A hot glue gun
Rope
A cloth
Scissors
Brush sealer
Here's how to create your upcycled tire Ottoman:
Clean off the tire with a dry cloth
Place one of the plywood circles on top of the tire and drill three holes in three distant points, deep enough to penetrate the tire underneath
Secure the wood to the tire with screws
Repeat this with the other side of the tire
Apply hot glue to center of the board and apply the tip of the rope to the glue, pressing firm enough that it will stick down
Begin twisting the rope in a snail-shell shape and secure each round with hot glue
After you've covered the entire piece of plywood with rope, do the same with the edge of the tire, making sure to glue in enough places to secure it
Flip the tire upside down and continue to cover with rope until you reach the edge of the board
After covering the entire tire, cut the rope
Glue the end of the rope to the tire to keep it from stick out
You don't need to coat the bottom of the tire with rope, as it will set on the ground
Seal the entire ottoman, wait one hour, and apply another coat
This DIY ottoman will work great as a seat or table for your beach party. And the best part is, you can reuse it after your Jimmy Buffett weekend has ended! It's chic enough to add to your backyard or living room and everyone will wonder where you got it!
Thatch Tiki Bar
It's impossible to have a true Parrothead party without a tiki bar, complete with thatch umbrella and plenty of margaritas to go around. Our thatch umbrellas are easy to install and come in many varieties, including natural and synthetic. You can install an umbrella over an existing table, or you can build your own tiki bar. These will look great in your backyard, on your boat, or out on the beach. Everyone will want to join your party!
Got a party to plan, or do you simply want to lounge in style on the beach? amaZulu would love to help! We specialize in providing theming materials that liven up any Parrothead party. Check out our inventory of bamboo, thatch, decorative mats, nets, and rope, and more! Who knows what creativity you can spark up, and we want to help you bring your visions to life! Give us a call at 877-243-5309 and let us help you get ready for your Jimmy Buffett weekend!
Image Credits:
A Merry Mishap
Save
Save
Tags:
Bamboo Canteen
,
Bamboo Cups
,
Rope Lights
,
Tiki Bar
,
Tire Ottoman