DIY Ideas for a Rustic Wedding
Create a Romantic and Rustic Wedding
I can hear the bells! June and July are the months for weddings and rustic decor is a huge trend right now. If it's only a few weeks until the big day, if you just got engaged, or if you're still fantasizing about your partner popping the question, check out these great rustic wedding decor ideas! They're sure to make for a wedding night that you, your partner will remember forever. And all of your guests will wonder how they can get such great decor ideas!
Take Me to the Altar
Whether you're getting married on the beach, in a tent, or in a field of flowers, nothing says "rustic wedding" quite like walking down the aisle toward a beautiful bamboo or eucalyptus altar. Turns out, these aren't too difficult to create yourself! Just take 6 longer pieces of either type of wood and grab some screws and power tools. 4 pieces of wood are vertical, while 2 are rested horizontally on top. You can then drape blankets, curtains, flowers, or pieces of flowing fabric around the poles. Image kissing your new spouse under that beauty!
Here Comes the Bride
Line the aisle with some homemade bamboo flower vases! Simply take a piece of bamboo and cut diagonally, so one edge is higher than the other. Tie some wire around the bamboo pole and fasten it to a lawn hook. Plant your favorite flowers inside and place them at 4-5 foot intervals all the way down the aisle. Substitute flowers for candles if you're getting married under the stars!
Rope 'Em In
Roping isn't just for sailors. It is actually a great material for decorating rustic weddings. Wind some rope around chairs, light posts, signs, or even the altar itself for a great rustic feel. Another great (and easy!) idea — wind a string of Christmas lights through a larger piece of rope and drape around the altar and various areas. This adds a simple, elegant, and rustic look that you'll want to incorporate everywhere!
Toss the Bouquet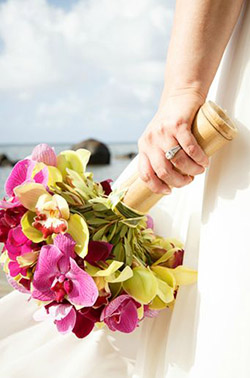 The bouquet is a meaningful and exciting part of your ceremony. Instead of just tying the stems of your flowers together, take a small stock of bamboo and cut it right at the culm, so the bottom has a flat surface. Stick your bouquet stems inside of the bamboo, and tie with strings, ribbon, or twine to add to the rustic feel. This way, your bouquet will look unique and elegant and your bridesmaids won't prick themselves on any rose thorns! This'll be a bouquet you don't want to toss. Leftover bamboo stems? Create vases out of them for the countless other flowers you have around.
Let Me Show You To Your Seats
Instead of boring and disposable name cards, create something your guests can take home with them after the event! Take a piece of eucalyptus wood and cut it diagonally into 8-inch pieces. On the diagonal surface, paint the names of the guests and place in their seating locations. They'll complement you on how innovative you are, and have a nice party favor to take home with them.
Catch the Crumbs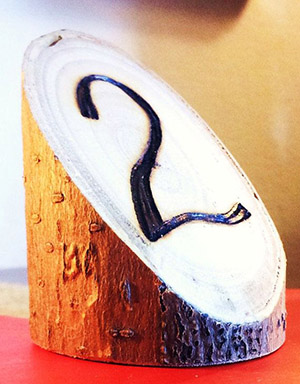 Don't forget about dinner! Instead of using paper or plastic placemats, craft some out of a natural mat material such as Seagrass or Bac Bac. Simple to do, and unique!
Want to get started? Check out our inventory of great rustic wedding materials! We carry anything from natural and faux bamboo to thatch and natural matting materials. We want to help turn your visions into a reality! Especially for such a once-in-a-lifetime event. Give us a call at (877) 243-5309 or contact us for more information today.
Save
Save
Tags:
Bamboo
,
Eucalyptus