Versatile Thatch Roofing – What You Need to Know
Thatch roofing has a long history that began with temporary shelters for nomadic peoples.
Between 5000 and 1800 B.C., the first hunter-gatherers colonized the areas between the North Sea and the Baltic Sea. As they built structures to live in, a thatched roof covering was a premium choice for homeowners. This choice was due to readily available materials and the effectiveness of the material in keeping out the rain. It also allowed for air circulation.
A versatile thatch roofing material
Farmers and fisherman began building dwellings that employed the use of reed. Its characteristics as an aquatic plant made this robust material an excellent choice for thatching.
Reeds refer to several tall, grass-like plants that grow in wetlands. These include plants in the Poaceae family; some sedges (including papyrus, also used to make paper); and the species most commonly used for roofing, Phragmites Australis.
An enduring roofing thatch material
While the early dwellings with thatched roofs consisted of wood, settlers in urban areas ultimately began using stone for construction. Yet, they continued to use thatched roofs.
During the Victorian era, natural thatch roofs were cheap and they became associated with poverty in industrialized countries. Still, thatched roofing was used in many parts of the world where users loved its versatility and effectiveness.
A historic and appealing material
With renewed interest in historic preservation and sustainable materials, thatched roofing is popular again. However, the newest version of thatch is synthetic thatch. It looks like natural thatch, but lasts much longer. Synthetic thatch is also referred to as artificial thatch, faux thatch or fake thatch. Either way, thatch has come a long way and it's still a popular building material.
What you need to know about thatched roofing materials:
Here are three articles that will get you up to speed on what you need to know about working with natural thatch roofing. They look at

Incorporating Thatch Roofing into Theme Parks and Resorts
One of the most loved decorative materials used in theme parks and resorts is thatch. Whether it's a roof or reed panels, this material creates a tropical feel and adds shade for visitors.
What are some applications for thatch roofing?
Because it is so thick and full, thatch roof panels are great for concession stands or animal exhibit shelters. Good quality thatch can last several years when applied by a skilled thatcher. Better yet, a quality product will not need frequent maintenance.
The synthetic version of thatch roofing is also easy to install. And it doesn't require a specialized artisan like with traditional thatch. You can even install it on a pre-existing roof.
For resorts, gazebo thatch roofing and umbrellas can help pools protect guests from the sun.
Natural thatch umbrellas can last five to seven years depending on the climate. The drier the climate, the longer the lifespan. The key is that the thatch roof must be correctly cut, dried, and installed.
Theme parks, zoos, and attractions can use thatch roofs for their merchandise stands and retail stores both indoors and outdoors.
Thatched roofing has unique insulation properties. Therefore, retail structures with a thatched roof feel much cooler in the summer as compared to those with a conventional roof. Reduced temperatures mean a lower power bill if your space is enclosed and requires air conditioning. It also keeps visitors shopping longer.
Thatched roofs give guests the feel of being in an exotic, tropical location. Check out these exotic resorts that incorporated thatched roofing versatile material into their architecture.
The Truth About Thatch Roofing: Authentic Natural vs. Long-lasting Faux
Durability, construction ratings, and your budget deserve serious consideration when choosing natural thatch or synthetic thatch. The choice can make a dramatic difference in creating environments. And so can its cost and longevity.
When should you use natural?
The old world natural material brings rustic living to the forefront. amaZulu's Tahiti Thatch, Thatch Reed Panels, and Mexican Palm Thatch add tropical informality and invigorating adventure to any project. It can last for 2-5 years – environmental elements permitting.
It is perfect for indoor installations, temporary facilities, or when you want 100% authenticity for your look. Using it as a material or prop in television, play, or film set is an example.
When should you use faux thatch roofing?
Likewise, our synthetic or faux thatch roofing can illuminate contrast by cloning the natural style with a longer-lasting material that costs less in the long run (15-20 years). You can extend the vivacity of your finished project with artificial products.
The Ultimate Guide to Synthetic Thatch Roofing
The characteristics of synthetic thatch
It's that time of year when homeowners are contemplating an update of their backyards and patios. So we wanted to provide you with a quick, easy, all-in-one guide to artificial thatch roofing.
Natural thatch is beautiful, but it can be a lot of work to maintain. But don't let the fear of upkeep and replacement keep you from installing a thatched structure.
A thatched umbrella, trellis, or bar is a must-have for any resident of warm environs. And it doesn't have to consist of natural grass materials. Synthetic thatch has the same look and texture as natural but without the need for replacement every two to five years.
Benefits of Synthetic Thatch Roofing

A long lifecycle (15-20 years) reduces the per-year cost of your projects.

Recyclability helps the environment and can contribute to LEED points.

It's treatable with fire-retardant to increase safety.

Sun-resistance keeps your facility looking new.

A product you can trust.
amaZulu's product range
At amaZulu, we have seven different types of artificial thatch. Each is maintenance-free, decay-free, and has a limited 20-year warranty.
Don't have any artisanal experience? It's ok! Our artificial thatch roofs are easy to install.
Our products are resource responsible, sustainable, and chosen with the source in mind.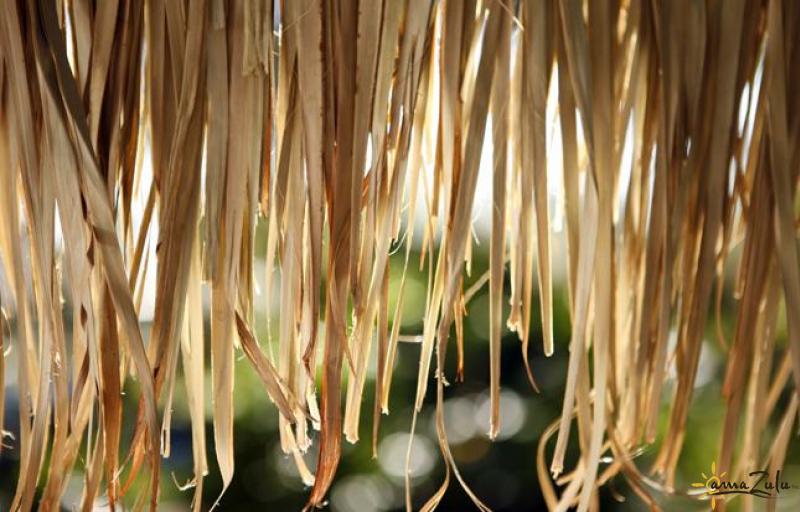 Why does using thatch benefit the environment?
amaZulu, Inc. has hand-selected manufacturers who produce eco-friendly, high-quality natural thatching supplies. Our selection presents a dynamic list of options when considering the environment.
At amaZulu, Inc., we extend our legacy beyond business to the community. We partner with domestic and international organizations that create economic opportunities to reduce poverty. This partnership improves the lives of the people who grow and produce our products.
Are you ready for thatch roofing?
If you're interested in using this beneficial and versatile material, we would love to help you! amaZulu, Inc. offers high-quality thatch roofing products for your eco-friendly and exotic projects.
No matter your style, budget, or lifespan of your project, you can count on us to be your supplier of choice. We can't wait to offer you recommendations for Natural thatch or Synthetic thatch.
We also do custom products and fabricate.
Contact us today for more information or give us a call, toll-free at 877-243-5309.
Related content and products:
How It's Made: Synthetic Thatch Roofing
A Look at the History of Thatched Roofing
Why Thatch Is Becoming The Go-To Roofing Choice For Backyards
Benefits of Building with Thatched Roofs
Save
Save
Save
Save
Save
Save
Save
Save
Save
Save
Save
Save
Save
Save
Save
Save
Save
Tags:
Artificial Thatch
,
Natural Thatch