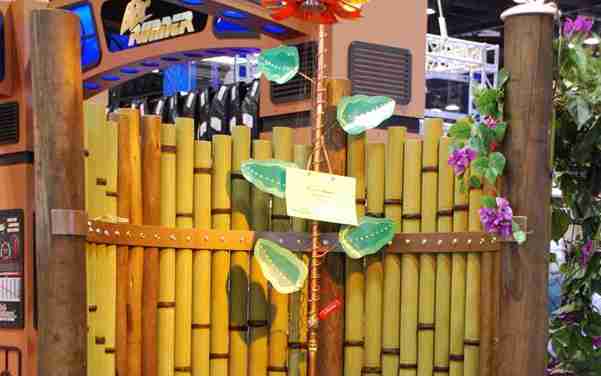 3 New Architectural Materials Solutions
Creativity and customer focus help drive amaZulu's innovation with our architectural materials solutions.
That means that one of our very best sources of ideas comes from our customers. And it is those ideas that drive much of our innovation.
What do we mean by this? Here are 3 examples of new amaZulu, Inc. thatch and bamboo products that are a direct result of listening to the customer, and addressing their challenges:
Challenge #1: Applying synthetic thatch can be really time-consuming and expensive, when you have to first lay plywood, peel and stick, then attach the thatch.
Solution: amaZulu, Inc.'s new synthetic open beam thatch doesn't require a plywood base. It's also 99% waterproof and perfect for shade structures. This saves a fortune on labor and, despite what you'd think, the materials are on par from a cost perspective. (This is so new it's not on the website yet. Give us a call or click on the hyperlink above and fill out the contact form and we'll get you all the information you need.) Challenge met!
---
Challenge #2: Bamboo is an important part of our theme, but it just doesn't stand up to water, it eventually rots in damp environments, and we can't use it to sleeve wires or posts due to the wall thickness.
Solution: amaZulu, Inc.'s new synthetic bamboo poles withstands the elements, and delivers a truly authentic and natural looking environment. This synthetic bamboo also has a consistent core size letting you hide wires and cables beautifully.
---
Challenge #3: We want to add a way to tropically theme our outdoor canvas umbrellas without having to replace the whole umbrella.
Solution: amaZulu, Inc. now offers synthetic Mexican Rain Cape Covers in a 7.5, 9, 11 and 12 ft. solutions that fits perfectly over your outdoor canvas umbrellas. Theming your resort or theme park has never been so easy, sturdy, or cost effective.
---
Finally, we're delighted to announce that we have (and yes, this is an amaZulu, Inc. exclusive) synthetic green bamboo poles. These bamboo poles stand up to the elements, and chlorine, and looks absolutely beautiful. Perfect for outdoor showers, fences and indoor theming.




Bring it on!
These are all 2016 innovations (and we're not done yet!). Do you have a challenge you'd like amaZulu, Inc. to take on? Then please share it with us so we can tackle it for you.
We'll share the next great innovation challenge and solution with you. Plus give kudos and "15 minutes of fame" to the person or company that spurred it!
Save
Save
Save
Save
Save
Save
Save
Save
Save
Save
Save
Tags:
bamboo fencing
,
bamboo poles
,
Faux Bamboo
,
Synthetic Bamboo
,
Synthetic Palm Thatch
,
synthetic thatch