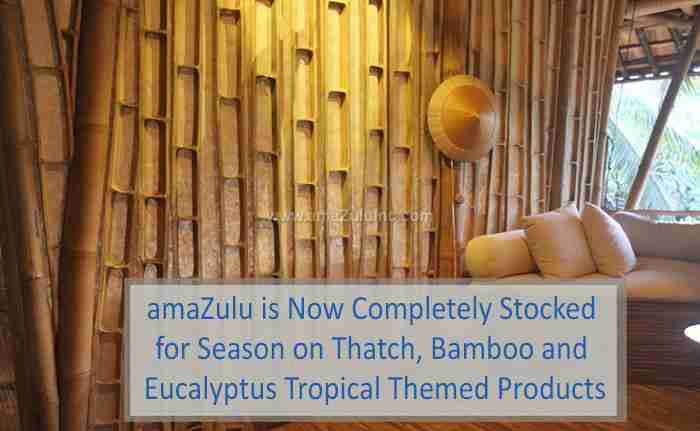 amaZulu is Now Completely Stocked for Season on Thatch, Bamboo and Eucalyptus Tropical Themed Products
Since 2002, amaZulu has built a business providing tropical themed products such as bamboo, thatch and eucalyptus to architects, general contractors and project managers. We also strive to listen to the needs of our customers. What we've heard lately is you love the quality of our tropical themed products, but you need inventory NOW. Okay, maybe not now, but certainly within a reasonable amount of time. Even though some of our products are coming from the other side of the world, the long lead times aren't always ideal for a production schedule.
The core of amaZulu's bamboo, thatch and eucalyptus tropical themed products cannot be bought from a big box store as they are sourced from small villages around the world. This means that to procure a container and have it delivered to the amaZulu warehouse in Florida can take up to 12-15 weeks.
amaZulu has been recognized as a global theme park material supplier and is committed to stocking our warehouse with all the most popular tropical themed products for zoos, resorts, theme parks and water parks. Some of our core products come in different sizes. Be sure to click on the links to view each product and their specs.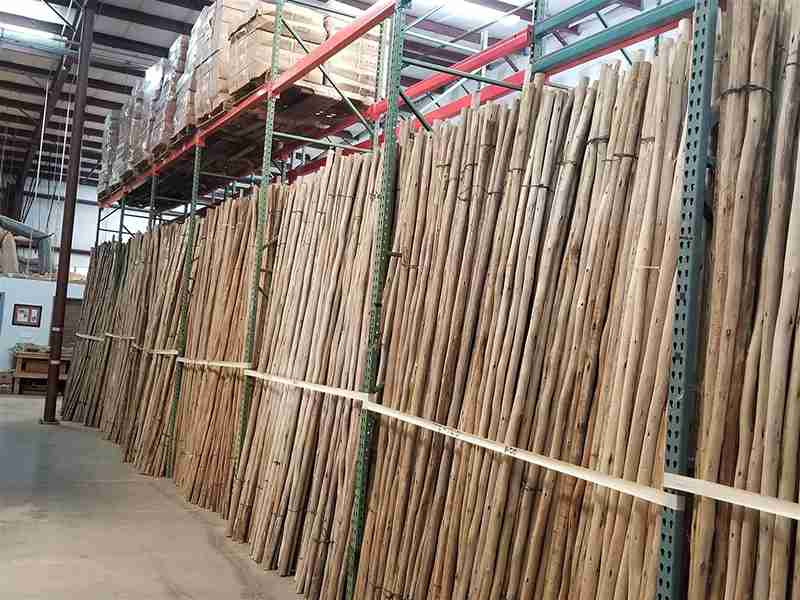 Our most popular tropical themed products:
(click on each link below to view our products)
We understand how crucial it is for projects to stay on time and on budget. Therefore, we've decided to reduce lead times by stocking our massive warehouse.
Top Reasons amaZulu is stocking your favorites:
Reduce Long Lead Times – If we know about your project, we will source the materials necessary ahead of time. But on those occasions where the project has already started and materials are needed urgently, our goal is to have the necessary inventory in-stock in our warehouse. Our goal is to keep stock levels high enough to accommodate our clientele.
Provide Ample Selection – We carry most of our product lines in a synthetic and natural version. The synthetic product range does come in multiple colors but the beauty is that they can also be made to custom colors. The decorative mats also come in 3 different weaving patterns. If you're looking for a specific hue/color for your project, we can accommodate your needs. The sooner we know about any specifications for an upcoming project, the better prepared we can be.
Stock on Hand for Emergencies – We understand shortages can occur, or an additional scope of work may be added at the last minute. Having accessible stock right here in Central Florida to complete the project on time, is crucial.
Save Money – Since amaZulu buys bamboo, thatch and eucalyptus in bulk, we have secured top-tier pricing for both the product and the shipping, we are gladly passing these savings to our customers.
Year-Round Inventory – Certain locations are seasonal. However, as a global company, we are ready for our customers regardless of the time of year.
Always Recalculating Stock – We have seen tremendous growth in our industry over the last few years. amaZulu is dedicated to growing with the industry. We are committed to checking our inventory levels on a weekly basis. As our business grows, so will our inventory levels. We will set new threshold stock levels when necessary to keep up with demand.
Pre-Orders are Welcome – When bidding out new projects, contact our sales associates to estimate the scope of work. There is never a fee to work with our estimating staff. We invite you to lean on their product and industry knowledge to source the correct products. If you need CAD drawings of our products, we have those too. If the order is larger than our available inventory, we will pre-order the materials with our vendors as well as the international freight brokers in order to reserve shipping lines for our containers. Our goal is to make sure inventory is available when construction begins.
BONUS –Fabrication
Did you know that we help by fabricating products so your contractor doesn't have to do this on site? We are always looking for ways to help you save time and money.
As you can see, the benefits are immeasurable when working with amaZulu. Our goal is to provide tropical themed products to you as quickly as possible. We want to be your building materials supplier.
If you have a large project coming up, please contact us using the form below or call 877-243-5309 so we can order supplies as quickly as possible.