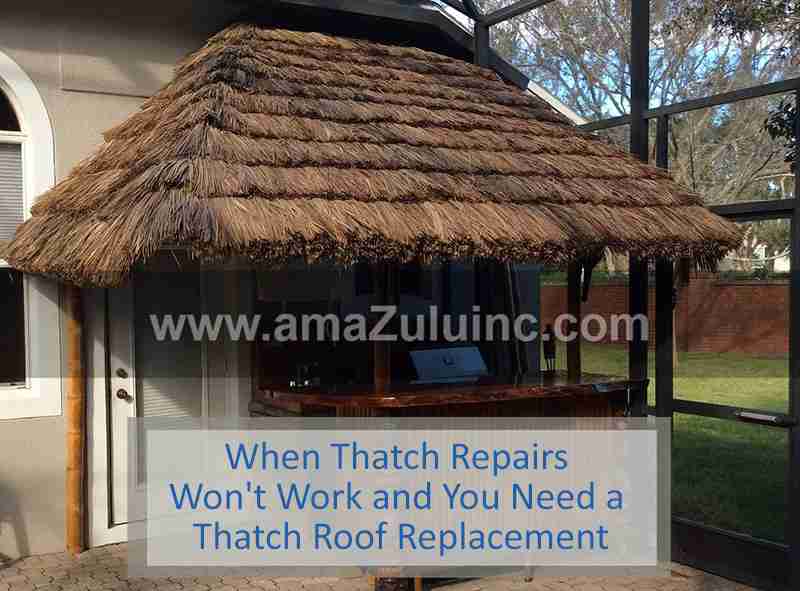 When Thatch Repairs Won't Work, and You Need a Thatch Roof Replacement
Topping a tiki hut, or outdoor patio area with a thatch roof creates a cool, shady oasis with a tropical, natural vibe. Because natural thatch is a sustainable, environmentally friendly and cost-effective material, a thatch roof is ideal for commercial and residential projects of all sizes. However, like any other roofing material, natural thatch eventually wears out. Sometimes, a repair is all that is necessary to extend the life of your roof. However, when a thatch repair won't work, it's best to opt for a thatch roof replacement. Here are a few ways to see if you need a full thatch roof replacement.
A Thatch Roof's Life
How long will thatched roofing material last? That depends. The type and quality of the roof thatch utilized and the installation of the original thatch roof are significant factors in a roof's lifespan. The destructive forces the roof has to endure also impact its longevity. Heavy rains, strong winds, and high humidity can all cause trouble. Mold and birds can also cause damage that may speed a thatch roof's demise. While the lifespan of your roof depends on your unique situation and location, you can generally expect a properly installed thatch roof to last for several years. If you are in a drier climate, you can add a few more years to the lifespan of your natural thatch roof.
Thatch Roof Repair Versus Thatch Roof Replacement
Trying to decide whether to repair the existing thatch roof or entertain a thatch roof replacement can be tricky. Is the roof relatively new and simply looking tired? Are the problems small, isolated and mostly aesthetic? If so, thatch repairs can likely extend the life of your roof. However, is the roof is reaching the end of its expected lifespan? Are the problems severe or widespread? Is the material starting to deteriorate? If so, talking to a professional about a thatch roof replacement is the best choice.
Types of Thatch Roof Products to Think About
All thatches are not the same. If you're contemplating the condition of your tiki thatch roof or embarking on a palapa thatch replacement project, you'll want to choose your material carefully. At amaZulu, we scour the globe to source top-quality, responsibly produced construction thatch products that deliver a dynamic impact. When it comes to thatched roof materials, we offer several options:
Are you ready for a Thatch Roof Placement?
When you want construction-grade thatch products that are safe, sturdy and sustainable, count on amaZulu. For more than 17 years, we've been importing high-quality, environmentally friendly thatch roofing materials. As a global palm thatching supplier, we source thatch from around the world for use in luxury resorts, theme parks, zoos, restaurants and residential projects. Our expert team will be delighted to help you explore the possibilities and select the best option for your thatch roof replacement. Contact us today at 877-243-5309 to help you find the best-thatched roofing materials for your project.