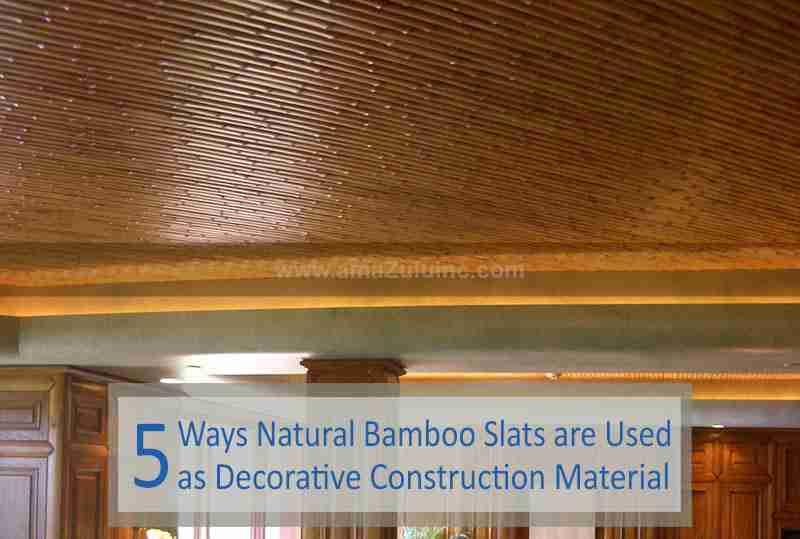 5 Ways Natural Bamboo Slats are Used as Decorative Construction Material
Natural bamboo slats are made by slicing a bamboo pole and sanding and shaping it to produce one flat side. This decorative construction material is easy to install, remarkably durable and amazingly versatile. They are ideal for indoor applications that need a tropical theme. Natural bamboo is available in a natural or stained mahogany finish. Here are a few ideas to transform a room with natural bamboo slats?
Top Ways to Use Natural Bamboo Slats
1. Bamboo Trims and Moldings
When they're done right, natural bamboo slats can be used indoors for chair rails, trims and moldings. It's an easy application to take the look of any space up a notch. Bamboo trim is environmentally friendly and delightfully tropical. Whether you're looking for a rustic, natural vibe or a sophisticated, mahogany finish, bamboo trim is an ideal construction material.
2. Room Separators and Traffic Control
Sometimes, room separators are often a necessity in public spaces, but they don't have to be sterile and cold. Consider using natural bamboo as room separators to create aesthetically appealing dividers and markers to direct foot traffic. The result is a practical product that has plenty of warmth and personality
3. Wainscotings and Other Wall Coverings
When it first became popular in the 16th century, wainscoting was used to help keep dampness and cold air at bay. Now, bamboo wainscoting serves a more decorative purpose, and that's something that natural bamboo slats are perfect for. Whether you want to use an accent wall to create a charming focal point or add character to the lower half of your walls, bamboo wainscotting makes the job simple and the results striking.
4. Decorative Ceilings
Ceilings are often neglected spaces, but bamboo slats are an excellent way to implement bamboo ceiling panels. For a uniform look, bind the slats together to cover the entire surface or use them individually as trim to construct a grid. For a more dazzling ceiling treatment, why not piece them together in a patterned mosaic? Our slats can be nailed, screwed, bolted or glued into the ceiling. Let your imagination run wild.
Read more about installing natural bamboo slats on your ceiling
5. Decorative Bamboo Framing
Would you like to add a distinctive flair to signage, photographs or artwork? Making custom frames with bamboo strips is simple and effective. It's an excellent and affordable way to unify your decor and add a relaxed, casual elegance to your space.
Additional Reading for Using Bamboo :
At amaZulu Inc., we delight in providing a wide range of top-quality green construction materials to theme parks, zoos, restaurants, hotels and other commercial industries. Our natural bamboo slats are 1.75 inches wide and come in 6-foot lengths that can be cut to your desired size. We offer bamboo slats in natural honey or stained mahogany, but they can be stained to produce your preferred color. If you think natural bamboo slats are suitable for your next project, contact us today at 877-243-5309 to discuss the possibilities.