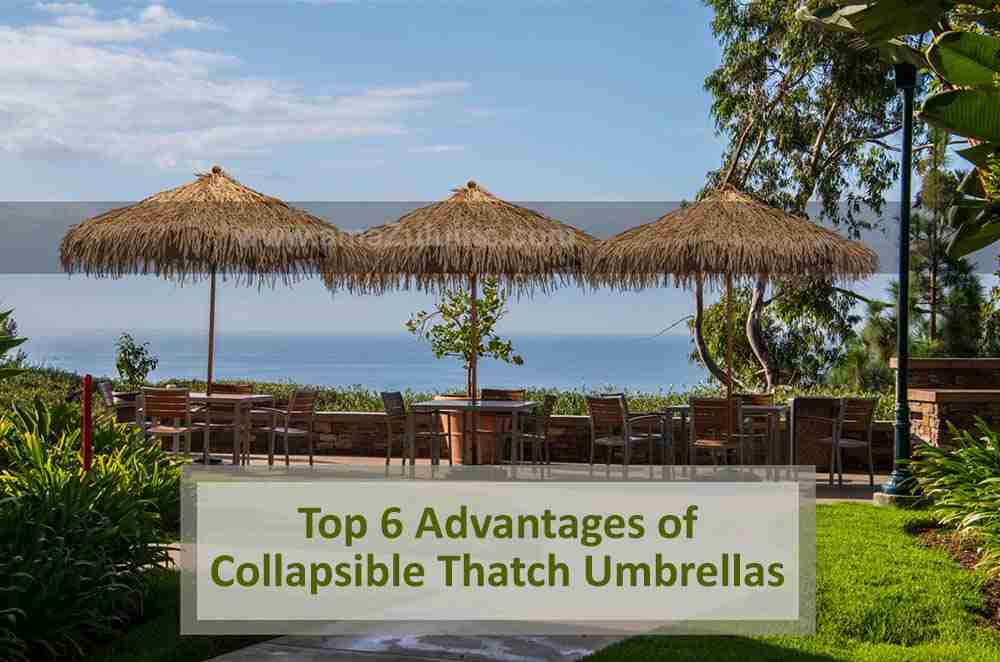 Advantages of Collapsible Thatch Umbrellas
When you want to create a relaxed, tropical vibe, it's hard to top the natural beauty and casual flair of a thatch umbrella. However, you can certainly make a good thing even better. At amaZulu Inc., we've done just that by adding top-quality collapsible thatch umbrellas to our selection of sustainable tropical theming products. What makes our collapsible synthetic thatch umbrellas such a smart choice?
Why we Love Collapsible Thatch Umbrellas
Visual Appeal
Beauty may be a superficial quality, but it's also something that people are quick to notice. Our new collapsible commercial tiki umbrellas are a gorgeous addition to any outdoor space. Thick, natural-looking palapa thatch covers a soft beige canvas lining, delighting the eye. A gorgeous wooden frame and solid brass hardware add to the visual appeal. The final result is a thatch umbrella anyone would be happy to spend time under.
Quality
Our synthetic palapa thatch looks real, but without the maintenance of natural thatch. Synthetic palapa thatch is suitable for interior and exterior use and it lasts for years. The synthetic thatch is made of high-quality HDPE which won't fade or discolor. It also resists pests, molds, rot and shedding. When it's paired with our innovative collapsible umbrella frame, you get amazing durability with a five-year warranty.
Convenience
Collapsible synthetic thatch umbrellas for amaZulu Inc. arrive fully assembled. The only optional extra item needed to purchase is a base plate. These come as an in-ground stanchion or a visible base plate. Once the new collapsible thatch umbrella is installed, just open and relax.
Flexibility
Why choose a collapsible umbrella over a stationary one? For starters, it gives you and your customers the ability to choose between sun and shade. It also makes it easier to protect your investment. When high winds arrive, you can lower your collapsible umbrellas to reduce the risk of them being damaged or destroyed. Are you planning to store or transport your umbrellas? Those tasks are much easier to accomplish when dealing with umbrellas that fold down.
Safety
Safety is a concern that every commercial entity must take seriously. Our synthetic thatches can be treated with a fire retardant to deliver additional protection for your guests and staff. In addition, the umbrellas are fully serviceable and repairable.
Customization
Our standard collapsible thatch umbrellas span a generous 8 feet on their octagon frames. That makes them noticeably larger than most thatch umbrellas on the market. Do you need something even bigger? Reach out to us. We're happy to help. With our custom design and fabrication capabilities, we delight in offering unique solutions. We happily work with architects, designers, contractors and project managers to find the perfect theming product for the project.
Are you ready to try collapsible thatch umbrellas?
When you want thatch materials that are environmentally friendly, safe, sturdy and ready to shine in a commercial setting, amaZulu Inc. can help you find them. For nearly 20 years, we've been sourcing high-quality, rapidly renewable construction materials from around the globe. Our products include natural and synthetic thatch, construction-grade and synthetic bamboo, eucalyptus, and more. Whether you're searching for decorative items that can stand the test of time, fencing that is as beautiful as it is serviceable, or construction-grade building materials, we can help you find it. Contact amaZulu Inc. today to learn more.