Top 4 Best Outdoor Restaurant Patio Designs for a Tropical Vibe
When it comes to creating vibrant restaurant patio designs with a tropical vibe, finding inspiration is easy. Refining a fantastic idea and shaping it into a practical reality is a little more challenging. At amaZulu Inc., we love creating tropical vibes even if you're landlocked. We thrive on finding new natural and synthetic theming products that are sustainable, responsible and cost-effective. We delight in delivering the practical solutions that help architects and designers bring their visions for outdoor restaurant patio designs to life. Here are a few of our favorites.
Top Upscale Restaurant Patio Designs
Spruzzo Rooftop Bar at The Ben West Palm
How do you create an iconic tropical patio covering that blends the timeless feel of a tree canopy with a modern edge while facing the elements fearlessly? The Spruzzo Rooftop Bar offers open-air dining eight floors above the ground atop The Ben West Palm. As the bar's focal point, the canopy needed to be eye-catching. Excellent craftsmanship and high-quality and weather-resistant materials were required components. Since the restaurant is located in Miami-Dade County, there was an added specification to meet all the necessary wind and fire codes. To make it work, our artisans wove a rich netting of fire-retardant high-density polyethylene cord. Then, they wove it across an aluminum frame that measured 23 feet wide and 6 feet tall. The result is a unique, natural-looking and long-lasting canopy.
Read the full case study for Spruzzo Rooftop Bar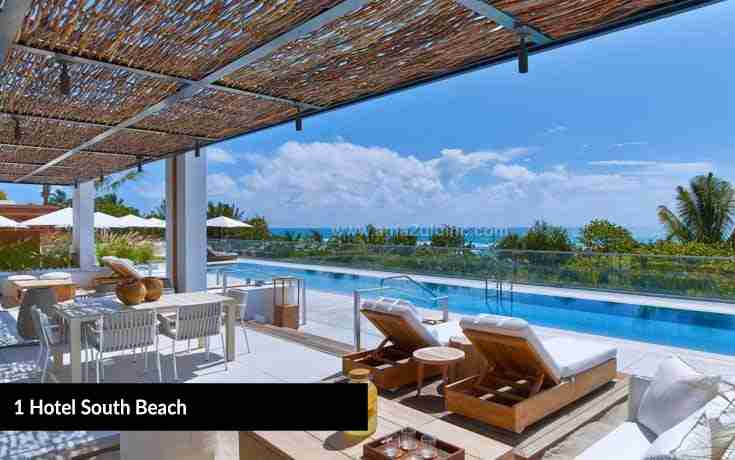 1 Hotel South Beach
Authentic materials and textures are a must for the natural ambiance that the 1 Hotel South Beach offers its guests. When the designers shared their outdoor restaurant patio ideas with amaZulu Inc. and requested input regarding the cover, we got to work. Eye-catching wasn't enough. The end product also had to be crafted from a durable, enduring natural material that would meet wind and fire codes. To maximize texture, visual appeal and strength while minimizing weight and wind uplift, we worked with engineers and architects. Our custom willow reed panels were handmade to fit the pre-engineered metal frame and treated with a fire retardant. The finished cover provides a striking look and welcome shade.
Read the full case study for 1 Hotel South Beach Miami
Ritz Carlton Amelia Island
The use of stone, light hues and imposing pillars might make the restaurant patio at the Ritz Carlton Amelia Island seem chilly or formal. Wrapping the edges of the ceiling in eucalyptus trellis brings natural warmth to the outdoor space, inviting diners to linger and relax. Sturdy and attractive, eucalyptus is a cost-effective, construction-ready theming material. Rich in visual interest, it offers countless possibilities.
See more photos of the Ritz Carlton Amelia Island
Installation – Tiki King
Favorite Casual R
estaurant Patio Design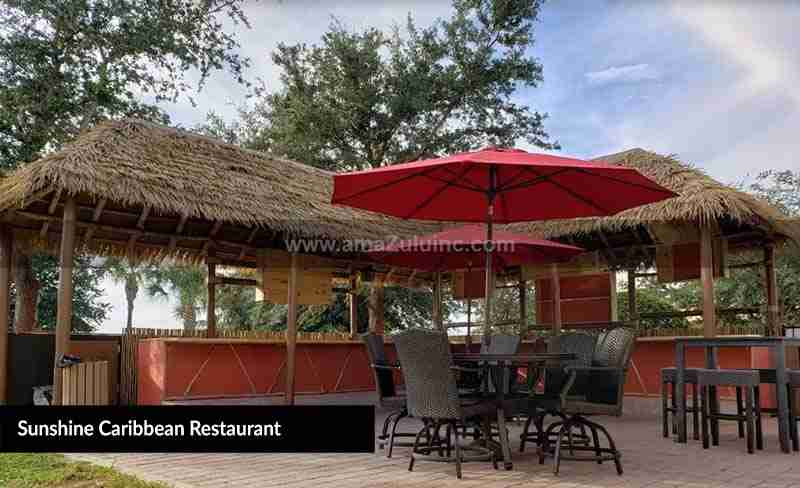 Sunshine Caribbean Restaurant
The Sunshine Caribbean Restaurant sought patio bar and grill ideas to breathe new excitement into their back deck. The goal was to create a dynamic, tropical-themed space filled with music and fun. Fortunately, amaZulu offers a variety of weather-resistant natural and synthetic materials. Natural bamboo, eucalyptus, viro synthetic palm thatch, synthetic rope and woven bamboo board were used to reinvent the space.
Read the full case study for Sunshine Caribbean Restaurant
Installation – Tiki King
When you're seeking top-quality theming materials for restaurant patio designs or some other project, turn to the amaZulu Inc. We offer a wide array of natural and synthetic eco-friendly products, and we're happy to work with you to create custom solutions. Whether you're looking for a fun-casual atmosphere or an elegant dining experience, we have the skill to turn your vision into reality. Contact us today to learn more.