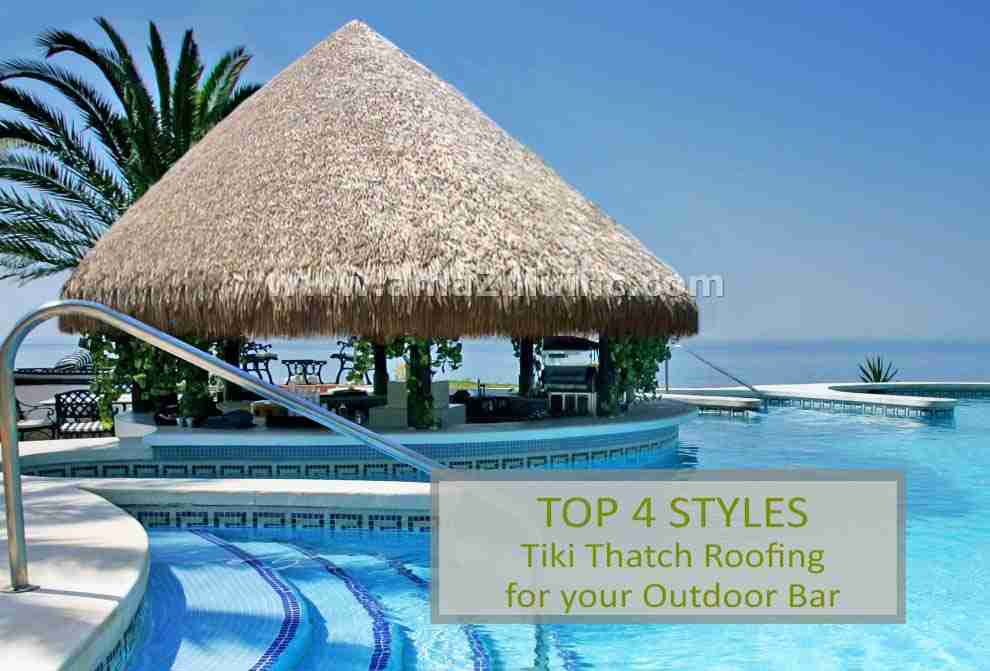 Top 4 Styles of Tiki Thatch Roofing for your Outdoor Bar and Shade Structures
The sun is strong stuff, so shade is an important asset. When your outdoor entertaining area lacks shade, a tiki hut is a naturally appealing solution. Tiki huts provide the perfect blend of fun and ambiance to unwind. Many commercial properties such as restaurants, resorts, and theme parks find that installing tiki thatch roofing on top of their shade structure creates an instant tropical atmosphere. An outdoor tiki bar or a tiki thatch gazebo is also a fantastic idea for residential homeowners who want to create a backyard oasis. You'll find there are many uses for tiki thatch roofing to create the perfect entertaining area.
Whether you are a commercial property or residential homeowner, it's easy to find a type of tiki roof that suits both your style and your practical needs. Most customers ask us "Which type of thatch roofing material is right for your outdoor tiki bar?" Here are four fantastic options to consider.
Tiki Thatch Roofing Options
Natural Thatch
With a delightfully shaggy appearance, natural thatch has a casual, yet timeless appeal. The sight of natural thatch seems to prompt an instant drop in blood pressure. While it has a limited lifespan when used outdoors in a warm, humid area like the tropics, the material remains both environmentally friendly and cost-effective. When a natural thatch tiki hut roof reaches the end of its life, it can be recycled. Plus, a replacement won't break the bank or require extreme efforts. After all, natural thatch umbrella capes and natural thatch panels, are easy to install.
Synthetic Thatch Panels
Synthetic thatch or artificial thatch has come a long way since its conception. It now has fantastic color variations and rich textures that directly compete with natural thatch. Synthetic thatch is also resistant to unpleasant things like pests, mold and decay. When you want the elegance of an outdoor bar without the worry, a top-quality synthetic tiki thatch roof can be a smart choice. At amaZulu Inc., we offer several types of synthetic tiki thatch roofing materials when building a shade structure. Meticulously fashioned from high-density polyethylene, these tiki thatch panels options look like the real thing. However, they last for much longer with virtually no maintenance. Choose from different types of thatch, including Viro Thatch Synthetic Reed panels, Viro Thatch Palm layered panels and Viva Palm Thatch Panels. They come in various color options to create the perfect look for your space.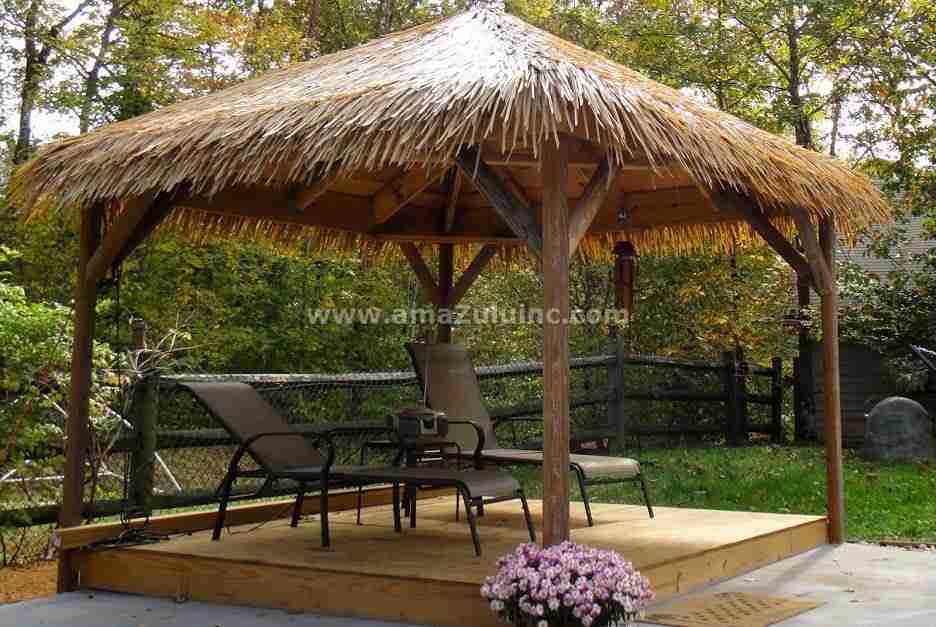 Synthetic Mexican Palm Thatch Capes
Our Synthetic Mexican Palm Thatch Capes are circular capes made from a synthetic material called HDPE. Lively, lush and luxurious, they turn any space into an island retreat. What makes these synthetic thatch capes a top pick for an outdoor tiki bar? While these synthetic thatch products look natural, they're actually more durable than the real thing. They'll provide years of worry-free shade for your outdoor bar or sitting area.

Collapsible Thatch Umbrellas
Want protection from the sun without building a tiki bar? Try our amaZulu collapsible octagon umbrella with a synthetic Mexican Palm Thatch Cape overlay which measures a generous 8 feet in diameter. This is a terrific option for creating ambiance in an outdoor dining area without building a permanent shade structure. So, if portability and flexibility are priorities, one of our gorgeous collapsible thatch umbrellas might be ideal!

Which Tiki Thatch Roofing is Right for you?
When building an outdoor tiki bar or tiki hut, there's a good chance you'll need thatch roofing, bamboo or eucalyptus poles. You can count on amaZulu Inc. for inspiration as well as specs necessary to build your outdoor oasis. We take pride in offering an ever-expanding assortment of natural and synthetic tiki thatch roofing materials as well as so many other products. If you're unsure which option would work best for your project, reach out to our team. Let us help you make your vision a reality for your new outdoor space. Contact amaZulu Inc. today to learn more.