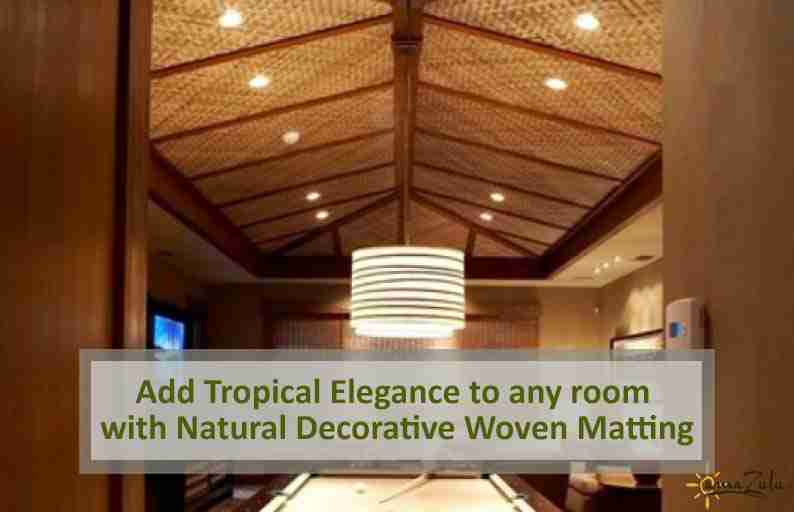 Add Tropical Elegance to any room with Natural Decorative Woven Matting
If you're looking for a quick way to add tropical elegance, the answer is easy. Decorative woven matting offers the perfect solution because it's natural, sustainable and affordable. If you visited a tropical resort, zoo or restaurant, chances are they had lots of decorative woven matting. These decorative materials may have been used as wainscotting, ceiling treatments and everything in between. Because these decorative mats are a natural product, there are several gorgeous styles to choose from. In fact, the hard part may be choosing just one type of natural decorative woven matting for your project.
Choosing the Right Natural Decorative Woven Matting
Bac Bac Matting

Crafted from banana leaf and cellulose, hemicellulose and lignin trunk fibers, amaZulu Inc.'s bac bac mats feature a distinctive diamond pattern. They also offer the richest display of color variation. Beige and browns in shades from light to dark ripple across these mats, adding the ideal touch of casual sophistication. They're also incredibly versatile. Measuring 4 feet by 8 feet, these thin mats can add dimension and texture to virtually any surface. A bac bac mat can be used on the ceiling, wall or floor.
Read More: Bac-Bac Mat
Seagrass Matting
Seagrasses are amazingly useful. They serve as a habitat for fish, crustaceans and sea horses. Seagrass can also be made into an affordable seagrass mat. They're a fantastic source of decorative pizzazz. Seagrass mats feature an intricate, lacy pattern in shades of beige, tan and light green. They're best saved for interior areas, but these 4 feet by 8 feet mats can be cut to fit any size or shape. They can be attached with adhesives or staples, so the possibilities are infinite. You can use seagrass matting for walls or to transform anything from the flip flops you use to the floor to the ceilings above your head.
Read More: Seagrass Mat
Cabana Matting
Sometimes called palm mats, cabana mats are light, airy and an easy way to add a touch of the tropics to your room. They come in bright beiges and come in sheets measuring 4 feet by 8 feet or rolls measuring 4 feet by 50 feet. Thanks to their flexible nature, cabana mats can be wrapped around curved or uneven surfaces and attached with adhesive or staples. Cabana mats can also be trimmed to get a perfect fit.
Read More: Cabana Mat
Tambor Paneling
When you want to make a strong statement, Tambor panels get the job done. Featuring a series of half-inch bamboo strips glued to a fabric backing, these Tambor panels are charming yet sturdy. In fact, they're a great choice for areas that see a lot of traffic such as entrances and bathrooms. At the same time, the Tambor panels' design gives them a lot of flexibility. Conforming to curves is no problem. What about colors? You can choose from natural, or tan, chocolate, which is a coffee brown, and mottled. This shade offers a mix of browns and tans.
Read More: Tambor Paneling

Hopefully, this list of natural decorative woven matting materials was enough to stimulate your creative juices. There are so many applications to use these beautiful natural decorative mats. Call one of our design consultants to share your vision.
At amaZulu Inc., we delight in delivering an assortment of natural materials with a tropical appeal. We also understand the need for green building products that are safe, sustainable and ready for real-world use. Is fire safety a concern? All of our decorative matting materials can be treated with an optional fire retardant. Which one is right for your project? If you have questions, we're happy to offer answers. Contact us today.