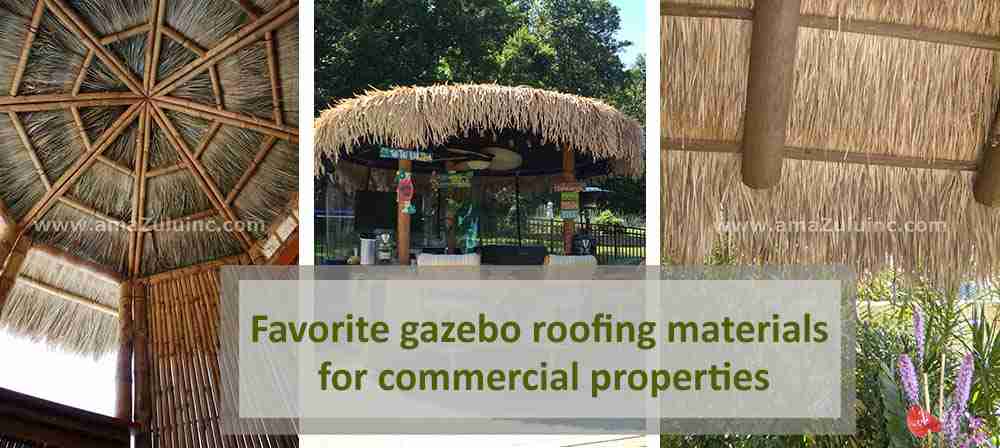 Favorite gazebo roofing materials for commercial properties
Gazebos are popular additions to commercial properties because they're simple, practical, and visually appealing. These structures offer an affordable way to add a bit of shelter or designate a specific spot for a certain activity. They're ideal as a distinctive entrance, a notable information booth, or an easy-to-locate transportation hub. Do you need to create a stylish performance space or an Instagram-ready photo spot? Are you eager to offer a retreat by the pool, an outdoor dining option or have a bar with flair nearby? Gazebos are perfect for any of these tasks. The only decision is to choose the right gazebo roofing materials that suit your commercial property. Fortunately, amaZulu Inc can offer you several options to pick from.
Natural Thatch
Natural thatch is a natural choice for gazebos roofs. Its thick, shaggy look creates a tropical vibe that instantly creates a relaxed atmosphere. Although natural thatch does have a limited lifespan when used outdoors, it's affordable, easy to install, and environmentally friendly. It's even recyclable. Natural thatch is available in thatch panels and umbrella capes and will fit a variety of sizes for gazebos or tiki huts.
If you're looking for natural thatch covering for a smaller gazebo, check out our natural thatch capes. This product comes as both a 7' or 9' cape or thatch sheets or rolls.
Synthetic Thatch
When you love the look of thatch, but you prefer something with greater durability, amaZulu's synthetic thatch products offer a solution. You'll get the rich, multidimensional colors of authentic thatch and improved resistance to pests, mold, and decay. Our synthetic products are made from high-density polyethylene, so they'll last for years with virtually no maintenance. Create the look that you want by selecting from our stylish gazebo roofing materials which include:
If your gazebo is less than 14 feet in diameter, our synthetic Mexican palm thatch capes are perfect for the job.
Eucalyptus Poles
When you want gazebo roofing materials that deliver simplicity, strength, and a rustic feel, eucalyptus poles are hard to top. Naturally fire-resistant, pest-resistant, and construction-grade, these tropical timbers are incredibly versatile. This beautiful hardwood is suitable for roofs and more.
When you're searching for the perfect roofing materials for your gazebos, turn to amaZulu Inc. We source a broad range of USDA-approved, rapidly renewable construction products, and we delight in helping contractors find the right materials for their job. Give us a call at (877) 243-5309 to schedule a consultation about your next project.