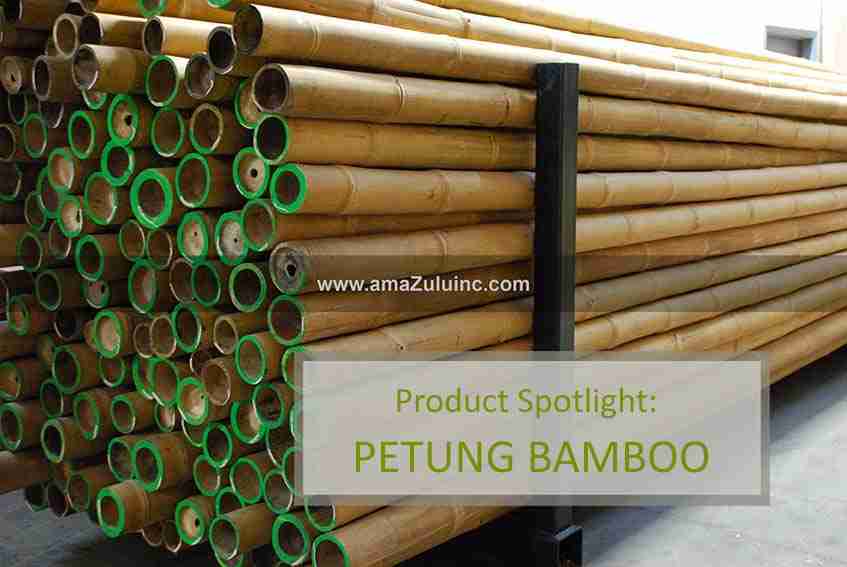 Product Spotlight: Petung Bamboo | Dendrocalamus Asper
The Bamboo is obviously a big part of my life and amaZulu's business, so when I went to Bali on a business trip I was excited to visit the Green Village. It's a living community of globally connected individuals who care about nature. The village was originally visioned and developed by John Hardy. This master-planned community hosts 12 unique and sustainable Petung Bamboo houses and villas. Here is a link to the Green Village to check it out for yourself.
I couldn't wait to see the bamboo construction that I had marveled over in pictures. It was so much more impressive in real life. Each home is strategically built to maximize its natural surroundings. Some of the houses were 6 stories tall towering over the lush landscaping and trees.
Photo Credit: IBUKU
The bamboo used at the Green Village is a treated Petung bamboo. Because bamboo is a natural product, it is susceptible to insects. All of our Petung Bamboo is treated with a boron solution that suppresses glucose inside the bamboo. Thereby making it inedible to insects.
Bamboo is a popular building material because it is as strong as steel. But unlike steel, bamboo is sustainable and renewable.
A few interesting facts about Petung Bamboo:
It is one of the biggest and strongest bamboo poles for construction
The average height is 15 – 30 meters
The average diameter is 8 – 20 cm
Wall thickness is 11 – 20 cm
In addition to using it for construction, the smaller shoots are edible.
As of three weeks ago, amaZulu now holds stock of this very bamboo, all the way from Indonesia. It is gorgeous and we are excited to share this for the first time with our customers.
Please visit our Petung Bamboo product page for more detail and sizes available.
Photo Credit: IBUKU
Here are some interesting FAQs about using Petung Bamboo as a building material:
Q: Does bamboo lose its form after a while?
A: Bamboo is a flexible and tensile material with a strength equivalent to steel. The engineering process considers the bamboo's natural flexibility.
Q: What type of maintenance is necessary for Petung Bamboo?
A: The most important step to ensuring minimal maintenance for bamboo is the initial treatment. Once the bamboo is treated with boron, minimal maintenance is required. Simply inspect exterior poles every few years to evaluate any damage from the sun or rain. Exterior poles might need recoating every few years.
Q: You mentioned the Petung Bamboo poles are treated with boron. What is that?
A: Boron is a natural chemical element found in Salt Lake City. It is only slightly more toxic than table salt and is perfectly safe to use in construction where people will be present.
Read more information about Petung Bamboo product page.