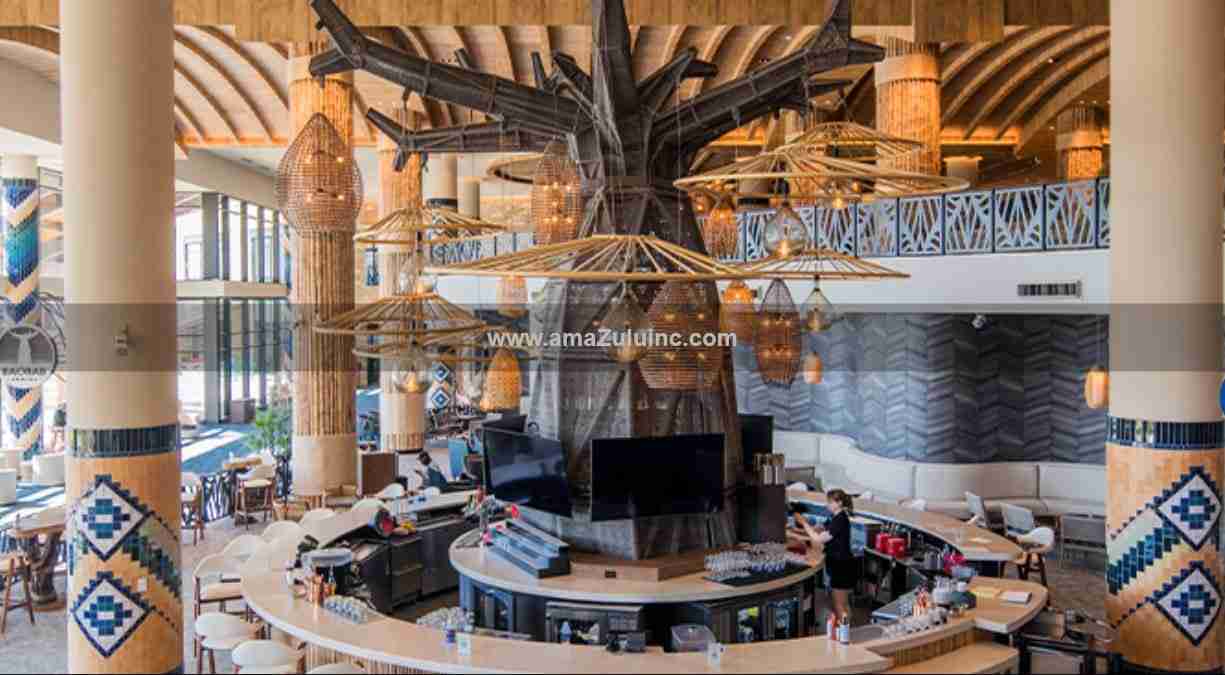 African Themed Resort: Kalahari Resort & Convention in Texas
Attending a convention can be fun and exhausting at the same time. That's why we love this latest project for Kalahari Resort & Convention in Texas. They created a world-class African themed resort for their guests at the convention center. This new resort provides a much-needed sense of relaxation and an invitation to slow down among the hectic schedule of a convention.
Between the vision of Kalahari and the skill of ISEC, their contractor, they took amaZulu's beautiful natural products and created exciting and upscale African themed resort. This was accomplished by using a combination of custom woven centerpiece, construction grade bamboo and eucalyptus fencing.
African Theme Resort Components Include
The Baobab Tree
Let's start with the centerpiece of a relaxing bar area in the resort, The Boabab Social.
The designer on the project wanted to showcase an African Boabab Tree, but with a modern twist. We took an aluminum frame with thousands of small reed-like strands woven onto the large frame. Once assembled, the Boabab Tree had life.
After many months of hand crafting the Designer's impression of a modern Baobab Tree, amaZulu finally shipped the tree in multiple parts from our factory overseas to the Kalahari Resort in Texas. Tiki King carefully assembled the Boabab Tree using a Spider Crane one piece at a time.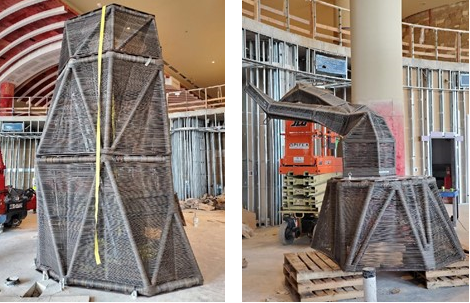 To this:
See more of our custom woven projects at https://www.amazuluinc.com/case-studies/custom-weaving/
All The Bamboo Poles
The Kalahari Resort wanted to keep a tropical theme throughout the resort. Therefore, they also wanted to use bamboo in different applications. It ended up being a perfect blend of Tre-Gai bamboo, Solid bamboo poles and bamboo wall coverings.
Tre-Gai Bamboo
Concrete pillars are a necessary part of construction. But these large concrete pillars are clad with our Tre-Gai Bamboo This bamboo is construction grade as it has a very thick wall which eliminates a lot of the cracking which allows for easy install. Each pole is unique giving an authentic feel as a support structure!
Solid Bamboo Poles
A smaller diameter solid bamboo poles made an attractive counter front. Not only is the Solid Bamboo eye catching but because it is solid, it acts as a tough surface for a high customer traffic area. Solid bamboo poles are durable for high-traffic areas. They will not dent nor break. The solid bamboo is also a construction grade bamboo with a 80 – 98% solid wall.
The Wide Weave Bamboo Ceiling Treatment
Why is the ceiling overlooked when building a themed resort? Not at Kalahari Resort! They carried the tropical theme to new heights. Wide Weave Bamboo Board was used as this ceiling treatment and it truly set the theme for the authentic tribal feel of this resort. Each outer strip of a bamboo poles is woven using a herringbone design. Each bamboo poles is laminated onto a thin bamboo plywood to make this decorative covering. It is easy to cut, follows a curve and therefore makes a simple and elegant ceiling.
Natural Themed Eucalyptus Fencing
This project would not have been complete without some Rustic Eucalyptus Fencing to surround the pool area. Eucalpytus fence panels come in 4' x 8' sections. They are held together with a stainless-steel rod wrapped in a synthetic rope. The poles are spaced to meet local buildings codes.
To visit the Kalahari Resort in Round Rock please go to https://www.kalahariresorts.com/texas/
Let us help you create your own African themed resort or a unique experience for your guests. From custom weaving to thatch, bamboo or eucalyptus, we have the materials and knowledge to help your vision come to life. amaZulu, Inc. offers high-quality natural and synthetic products for all of your eco-friendly and exotic projects.
Regardless of your style, budget, or the lifespan of your project, you can count on us to be your trusted supplier. Contact us using the form below for more information or give us a call, toll-free at 877-243-5309.