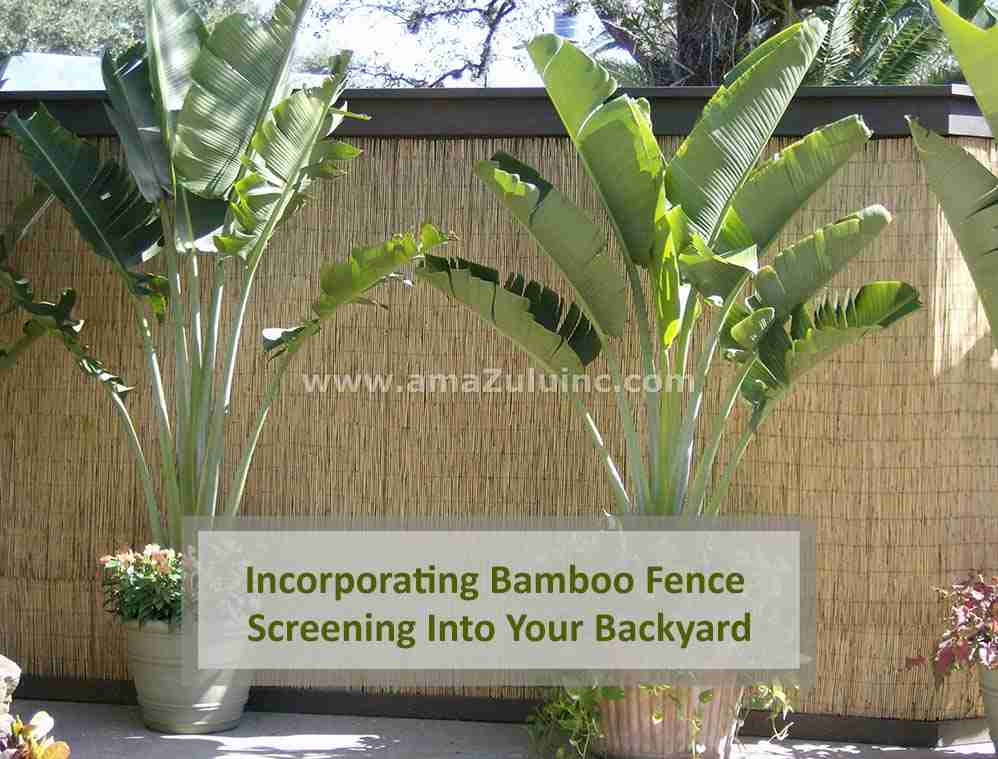 Incorporating Bamboo Fence Screening Into Your Backyard
Do not overlook bamboo screening when you are choosing to fence your backyard. Bamboo fence screening is an important architectural element that when done right is both practical and beautiful. Bamboo fence screening provides both safety and privacy while enhancing the character of your home when viewed from the street or from inside the yard.
If you have a pool, incorporating an amaZulu bamboo fence screening, that conforms to local code, around your pool not only adds a tropical feel to your home. It also keeps children and pets from danger. If you are looking for a little privacy from your neighbors, a bamboo privacy fence by using bamboo screen can be the perfect way to separate your backyard from your neighbor's, without using those unsightly chain-link fences.
As you research options for bamboo fence screening materials, you will discover that amaZulu has some of the best choices for bamboo screens. With proper maintenance, bamboo fences can last up to 20 years–much longer than their cedar and pine counterparts. Our top product is rolled bamboo fencing.
Bamboo isn't a strong "wood," it's actually a grass and is a renewable and sustainable resource. Once the mature bamboo is harvested, farmers replant their fields and another harvest is ready three years later while pine trees can take as long as 30 years to be ready for harvest. This makes bamboo one of the most eco-friendly building materials you can find. Using bamboo for fence panels is one of the most sustainable products you can buy.
Additional Reading: Bamboo Sourcing: The Art of Choosing a Trusted Bamboo Supplier
When you are remodeling your property, consider the aesthetic impact that changing out your fencing will have by installing bamboo fencing. Bamboo gives your home a facelift with its unique, natural design. So much more appealing than typical timber or vinyl fencing, bamboo fencing is a star performer in the landscape.
amaZulu, Inc. has hand-selected manufacturers who produce the eco-friendly, high-quality bamboo fencing materials to present a dynamic list of options when considering the environment. amaZulu, Inc. is the preferred source for architectural theming materials, including thatch panels, bamboo fencing and eucalyptus poles, decorative wall and ceiling coverings, natural screens and woven boards, rustic fencing, thatch umbrellas and synthetic tile roofing.
amaZulu, Inc. extends its legacy beyond business to the community where they partner with domestic and international organizations that create economic opportunities to reduce poverty and improve the lives of people who grow and create their products.
See some ideas of how Tonkin bamboo fence panels will look in your backyard?
Get started with amaZulu Inc. by calling 877-243-5309 to speak with one of our design consultants today.
Tags:
bamboo fencing