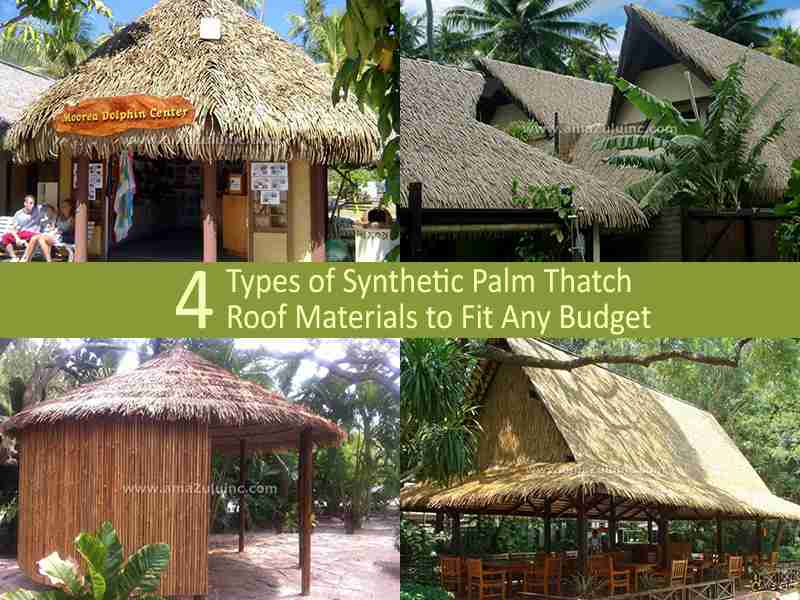 4 Types of Synthetic Palm Thatch Roof Materials to Fit Any Budget
An artificial or synthetic palm thatch roof offers the ideal mix of beauty and practicality. You get the lush look of natural thatch with material advantages like increased durability, pest-resistance and longevity. However, it's a mistake to assume that if you've seen one synthetic thatch, you've seen them all. At amaZulu Inc., we offer four distinct synthetic palm thatch roofing materials. Which one is right for your project? That depends on your priorities.
Our Synthetic Palm Thatch Roof Materials include:
The sections below take into account the qualities, the look and installation while considering the cost. Once you determine what you need from your new thatched roof, then a budget can be developed. Here are the criteria to consider when using synthetic palm thatch roof materials.
The Right Look – Even for an Artificial Material
Does appearance take precedence for you? All four synthetic palm thatch roofing products feature slight variations in color and style to create a vibrant, natural appearance. Solid molded panels of high-grade polyethylene, the Rio and Aloha palm thatches are meant to be layered to create a naturally gorgeous tropical roof.
The Rio Palm Thatch recreates the look of Floridian thatch.
The Aloha Palm Thatch mimics the appearance of shaggy palm thatch.
How does the Viro thatch palm compare? The Viro Thatch subroof panels are more refined and have a lot more movement in the thatch.
Lastly, the Viro Layered panels are the top choice for a much thicker, chunkier thatch.
The Viro thatch range is the most authentic synthetic thatch on the market due to the texture and multi-colored leaves.
Price Points
All of our synthetic thatch roofing products offer great value. However, their price tags vary, so you can choose the product that best suits your budget. Our Rio Palm Thatch and Aloha palm thatches offer affordable ways to get the fun, tropical vibe you're craving. The Viro thatch palm products are more realistic and detailed but require a more labor-intensive production process, hence they are more costly.
Indoors or Outdoors
Is your application indoors? Are you searching for an exterior product like synthetic tiki hut thatch? Whether you're keeping it inside or putting it outdoors, you can use any of the four synthetic palm thatch roof products. They're all suitable for both indoor and outdoor use and will last up to 20 years.
Do You Want a Subroof?
The view of a thatch roof from below can be enchanting. Some thatch roofing materials have to be mounted onto a subroof, where you could use a decorative tropical board as a ceiling treatment. If you want to stand inside your space and see the underside of your thatch roof, you'll need to select synthetic thatch panels that can be mounted on an open frame like our Rio Palm Thatch or our Layered Viro Thatch Palm.
Wind Resistance Rating
What happens to your roof when the wind blows? Even though many tropical climates enjoy amazing weather all year long, they are also subject to strong storms. When you use synthetic thatch panels from amaZulu Inc., there's no need to worry. All four products have passed wind and UV tests.
Waterproofing
With interior applications, there's not much need to worry about a little rain. However, if you're using synthetic palm thatch for an exterior project, waterproofing can be a concern. Because they're solid panels, the Rio and Aloha palm thatches are virtually waterproof. What about the Viro thatch palm? The layered version is 96 percent waterproof, so it does a fairly good job of keeping water at bay. If the area where you want to apply the synthetic palm thatching needs additional waterproofing, it would be best to attach the thatch to a watertight subroof.
Safety Matters
Fire safety is a concern for everyone and every business. Synthetic thatches can help reduce the risk of fire damage. In fact, the Viro thatch palm products can be treated with a nonbrominated and nonhalogenated flame retardant system. Therefore, in addition to your thatched roofing materials being fire retardant, there's no need to worry about exposure to heavy metals.
Additional Reading: Synthetic Palm Thatch Roof Materials:
Which synthetic palm thatch roof product is right for you? Each of our products offers unique advantages, so it depends on your project. Our friendly, knowledgeable team will be happy to help you decide on the option that suits your needs. Contact amaZulu Inc. today to learn more.