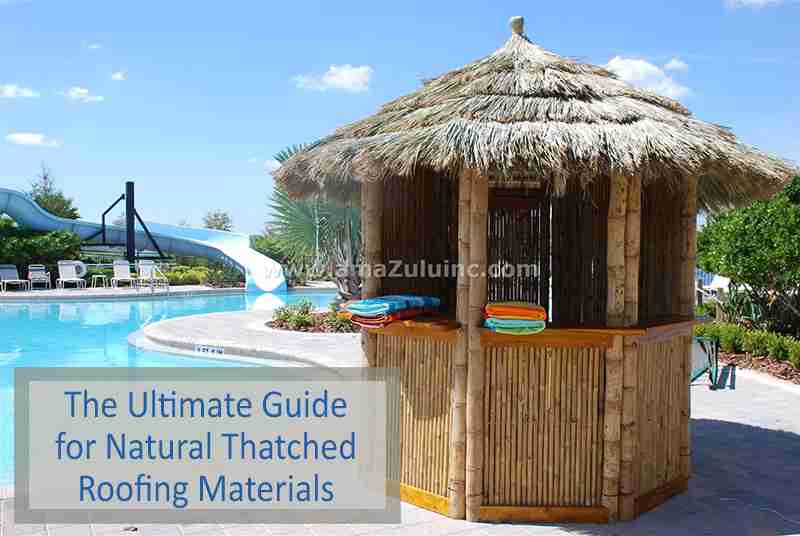 The Ultimate Guide for Natural Thatched Roofing Materials
Natural thatch roofing has been used for centuries, but it is far from a thing of the past. Today, this type of eco-friendly thatched roofing can still be found atop countless buildings around the world. Do you want to provide shady spots that invite guests to relax and unwind? Natural thatched roofing might be the perfect touch for your next project? Here is your ultimate guide to natural thatched roofing.
The Benefits of Natural Thatched Roofing
Why are restaurants, resorts, theme parks, zoos and other commercial ventures opting to utilize thatched roofing materials? Natural thatch is:
Beautiful. A thatched roof immediately turns an environment into a special place. Attractive and exotic, it creates a relaxed, tropical vibe that delights the senses and sparks dreams of adventure.
Eco-friendly. A thatch roof consists of dried vegetation. The production of this 100-percent natural product requires no toxic substances. It is sustainable, recyclable and a great way to incorporate green building practices into your next project.
Practical. Thatch roof material is more than decorative. It's also functional. When natural thatch is woven properly, it is a low-maintenance building material. Natural thatch roofing provides both enviable shade and a waterproof roof that delivers top-notch protection from the elements for years. It is also thermally efficient. Where more common roofing materials trap heat, humidity and moisture, natural thatch systems offer the perfect balance of ventilation and insulation. In fact, the spaces beneath shade structures topped with thatch are often 10 percent cooler than the spaces under comparable structures built with standard shade materials.
Distinctive. While thatched roofs are common in many parts of the world, they're still fairly unusual in the U.S. As a result, utilizing thatch as a roofing material gives your project a distinctive, unique look that appeals to the eye and sticks in the memories of those who see it. Tropical roofing products made from natural thatch can be used inside and out to generate the right atmosphere.
Safe. We understanding safety is a concern for your company and your guests. All our Natural Thatch Panels can be fire retarded using a Class A Fire retardant.
Using Natural Thatched Roofing
Because natural thatch is decorative, functional and versatile, thatched roofing works for a wide range of applications. Theme parks, resorts, zoos and other attractions can use it virtually anywhere shade is desired.
Thatched roof material produces the ideal ambiance. Would you like to provide natural-looking shelters within a garden or animal enclosure? Thatch roof covering is a perfect choice. Are you interested in making your concessions stands and retail establishments places where people congregate? Thatch is thick and full. Incorporating natural thatch in your design ensures that these structures offer both suitable shelter and plenty of personallity. Thatch's natural thermal efficiency also helps to keep these structures comfortably cool, so shoppers might linger a little longer even as you enjoy lower energy bills.
Additional Reading about Natural Thatched Roofing
At amaZulu, Inc. is a global Mexican palm thatch supplier and many other types of thatch roofing materials. We've traveled the world and carefully hand-selected reliable manufacturers who produce eco-friendly, high-quality natural architectural materials. When it comes to natural thatch roofing, we are proud to offer several options, including Tahiti Thatch, Mexican Rain Cape Thatch and African Reed Thatch Panels. Our knowledgeable team will be delighted to help you select the product that's right for your project. Contact us today at 877-243-5309 to learn more or fill out our online form below.
Tags:
natural thatched roofing
,
thatched roofing materials