Getting Innovative With Decorative Bamboo Boards
Project Spotlight: Manchebo Beach Resort & Spa
If you've ever been to Aruba, you will remember the sunny beaches and beautiful scenery. Among the vivid natural sights is the Manchebo Beach Resort & Spa.
A few years ago, amaZulu had the opportunity to work with Manchebo and bring their visions to life! As a top resort with thousands of guests, Manchebo relied on us to enhance the tropical look and feel of their buildings. We did so by adding synthetic thatch roofing and decorative bamboo boards to their large outdoor pavilion area.
Using a synthetic thatch instead of natural thatch allowed Manchebo to achieve an excellent rustic look with an easy installation. They also will have little to no upkeep going forward.
A Unique Use for Decorative Bamboo Boards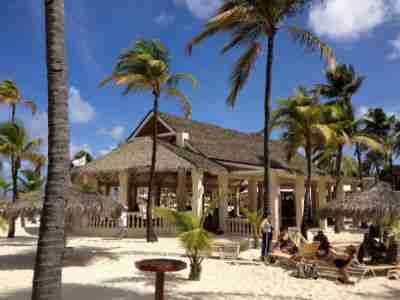 The thatch roof had to be installed on a plywood subroof, leaving an unattractive and unfinished look on the ceiling. The pavilion is often used for weddings, banquets, and yoga sessions. Therefore, the interior had to look just as beautiful as the outside. Paint wasn't going to cut it.
amaZulu's Sales Manager came up with an innovative idea while visiting our warehouse in Clermont, Florida. Instead of just leaving the plywood unfinished or painting it, he imagined covering it up with one of our decorative bamboo boards.
amaZulu, Inc. has so many different styles of decorative bamboo boards. However, Manchebo chose to go with the woven bamboo plywood. The light honey color matched their existing color scheme. And it didn't take away from the natural look and feel of the thatch roof.
We took it up a notch by applying the woven bamboo plywood in a brick-like fashion. This technique gave it some extra style and a unique vibe. We then covered up the open seams with natural bamboo slats.

The finished look was an enormous conversation starter! Now, as guests view the beach from the pavilion, they can do so in a completely themed and rustic environment that adds to their overall experience. Manchebo was pleased with the final product, and we were grateful to have partnered with them.
Woven Bamboo Plywood Specs:
Crafted from the interior part of the bamboo pole
Light and rigid; easy to apply to ceilings and walls
Apply to surface with contact cement or staples
Available in 1 or 2-ply 4' x 8' sheets
Easily cut into various shapes
Optionally fire-retarded
Edges do not fray
Light honey color

Bamboo Slat Specs:
Harvested from large diameter bamboo
Back is sanded to create a flat surface for easy application
Natural shade of honey or stained mahogany colors available
Available in 1.75" x 6' long slats
Add Some Paradise to Your Life
Got a project that needs theming? We love working with creative and innovative businesses and individuals to turn their visions into a reality!
At amaZulu, we provide natural and sustainable theming materials such as bamboo, eucalyptus, and thatch to architects, builders, designers, businesses and homeowners to specify and use in their projects.
All of our bamboo products are resource responsible; we believe that it's important for businesses and bamboo suppliers to be environmentally accountable when it comes to their building practices.
If you've got an idea for a themed project, or simply want to add some life to your home or business, give us a call at 877-243-5309.
We would love to talk to you about your visions and interests.
Related content and products:
A Look at the History of Thatched Roofing
Tre-Gai Bamboo + Decorative Boards: The Perfect Couple
Decorative Screens: The Stylish Alternative to Chain Link Fencing
Save
Tags:
Manchebo Beach Resort & Spa