Bamboo products are extremely versatile and can be used in many aspects of your construction project. Bamboo paneling to bamboo screening products and incorporating bamboo poles in your furniture and decorations, bamboo products can transform any commercial project.
With temperatures rising as spring and summer seasons rapidly approach, water parks are re-opening at every turn across the nation. And with these re-openings comes the need for sprucing up park areas with new features and renovated structures.
One premium option for these water park upgrades is the use of bamboo products such as rolled bamboo fencing and bamboo paneling. In addition, to it being decorative and tropical-themed, bamboo fence panels are also a cost-effective, sustainable and easily installable option for commercial use.
The Many uses of Bamboo Products:
Bamboo Paneling for Concession Stands
Bamboo paneling offers a simple, eco-friendly way to add a subtle tropical touch to a variety of outdoor projects. As with this amaZulu project pictured below, our bamboo paneling can create a unique aesthetic to a variety of water park structures, including pool concession stands.
With proper treatment, bamboo fence panels are naturally durable, rot and element resistant, and extremely versatile for many applications.
Bamboo Screens and Bamboo Poles in Restaurant Bars
Another great option for water park enhancements is adding outdoor bamboo screening products structures like restaurant bars or ceiling linings. With its extremely dense walls, solid bamboo poles have a strong resistance to splitting and is an ideal choice for climates of many kinds.
These solid bamboo poles are used to cover the bar-front at Royal Pacific Hotel showcases our amaZulu Sanded & Finished Solid Bamboo, which is lightly sanded and sealed with a polyurethane finish. Its thick walls make the material helpful for both aesthetic and structural purposes. It's also coated with multiple treatments to repel insects and other pests that can cause damage to its exterior.
Faux Bamboo Poles for Pool-Perimeter Barriers
For pools, lazy rivers and other outdoor water attractions, bamboo products serve as both an essential safety feature and an aesthetically pleasing barrier between park attractions. Faux bamboo poles offer the perfect solution to any water park fencing needs. In the image below, amaZulu created a more sophisticated look at this resort pool with faux bamboo that sleeved around metal poles, tied together with one-inch synthetic rope. In addition to being a nice feature to look at as a guest, it also serves as a safety feature for those dining at restaurant tables positioned near the water.
Faux bamboo poles can be coated with a marine-grade finish, making it an ideal choice for nearly any outdoor application. Its thin walls and large hollow center also allow for easily masked construction wires, pipes or cords, while still maintaining a tropical look for guests to enjoy.

Tre-Gai Bamboo for Tables/Chairs
For indoor applications, Tre-Gai bamboo provides an exotic, tropical look that works well for tables, chairs, decorative frames and much more. This Tre-Gai bamboo table features amaZulu's signature Sanded & Finished Solid Bamboo, offering a sturdy, durable and completely unique feature for this tropical-themed lobby area.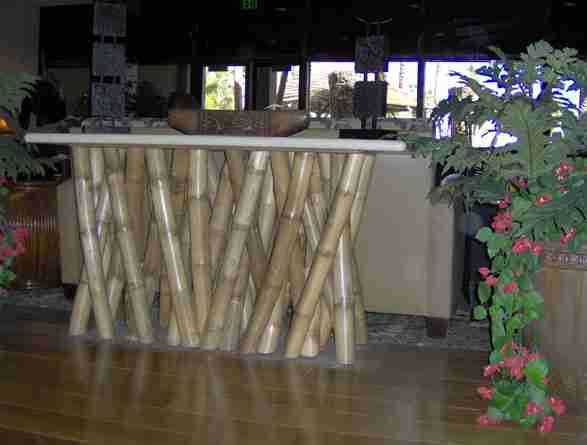 Find out more about bamboo options amaZulu can provide for your water park by calling 877-243-5309 today.
See other unique bamboo products