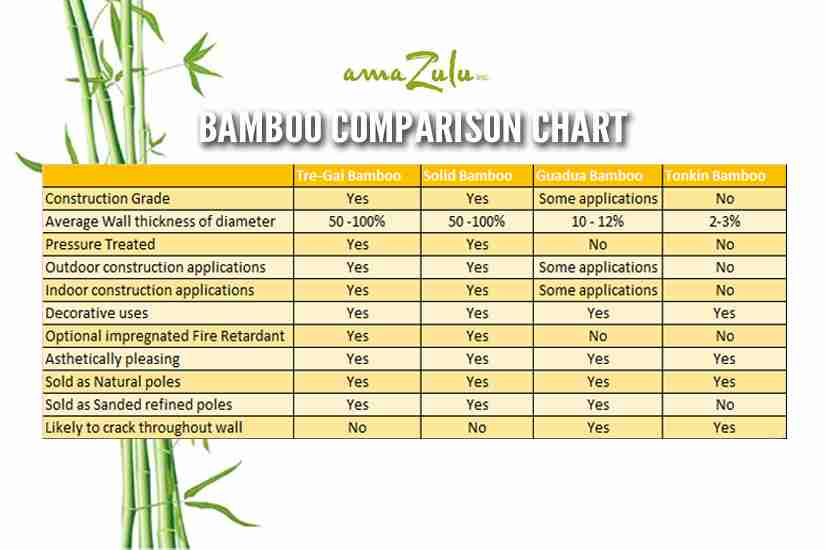 Bamboo Poles Comparison – Tre-Gai | Solid Bamboo | Guadua | Tonkin
Diversity is a beautiful thing, comparison and it's something that you need to be aware of when selecting bamboo poles for your next project. Just as there are various kinds of flowers, grasses and trees, there are different types of bamboo. Some species can provide sturdy, construction-grade bamboo poles. Others produce poles that are best utilized for decorative purposes. To use this natural, eco-friendly material successfully, you'll have to select a bamboo product that has the appropriate qualities for your project. How do you know which type of bamboo poles to use? This handy bamboo poles comparison chart will help.
Bamboo Poles Comparison
Tre-Gai Bamboo Poles
If you're looking for construction-grade bamboo, Tre-Gai bamboo is a premium choice for large diameter bamboo poles. This gorgeous bamboo offers shades of tan with prominent nodes that make it a visually striking material. Tre-Gai bamboo is decorative, but it won't crack under pressure. In fact, it has an average wall thickness that is 50 to 100 percent of the diameter. Tre-Gai bamboo poles can be used for pillars, roofs and other structural purposes both inside and outside. Tre-Gai bamboo poles are available in natural and sanded poles, is pressure treated, and can be impregnated with a fire retardant for additional safety. See product details and specs for Tre-Gai Bamboo.
Solid Bamboo Poles
No bamboo poles comparison would be complete without a look at solid bamboo. Solid bamboo poles are a smart choice for a construction project. Its dense walls make it a strong, versatile material that is great for everything from building furniture to decorative fencing. Does your project call for pressure-treated or fire-retardant materials? You're in luck. Solid bamboo can be found with both of these features. With coloring that runs the gamut from honey tones to rich tans, these natural bamboo poles are also decorative. Natural, sanded, finished and half-round solid bamboo poles are available, so it's easy to create the look that you want. See product details and specs for solid bamboo poles.
Tonkin Bamboo Poles
With an average wall thickness of just 2 to 3 percent, Tonkin bamboo poles look fantastic, but they aren't really sturdy enough for any sort of structural construction project. We would categorize them more as decorative bamboo poles. They do, however, provide a naturally sophisticated air when used as decorative paneling for ceilings, bamboo fences and other similar projects. Easy to install, these bamboo poles are offered in various colors, finishes and sizes. See product details and specs for Tonkin bamboo fencing.
Read more about Bamboo and Eucalyptus Fencing
Guadua Bamboo Poles
Guadua bamboo poles are aesthetically pleasing, and you can purchase both natural and sanded poles. However, the average wall thickness of Guadua bamboo is only 10 to 12 percent of the pole's diameter. Guadua bamboo poles have thinner walls which means this type of bamboo lacks the strength to use in construction-grade jobs. While it's perfect for decorative uses, Guadua bamboo's usefulness in construction applications is pretty limited because it's liable to split or crack.
See how Tristan so eloquently describes these types of bamboo.
Bamboo is a great choice when you're looking for a material that's versatile, long-lasting and environmentally sustainable. At amaZulu, we're bamboo experts. We take pride in providing our clients with top-quality, ethically sourced bamboo, and we're happy to help you find the perfect product for your project. We hope this bamboo poles comparison chart provided the information you needed to make an informed decision to purchase bamboo poles. To learn more about using bamboo and other natural materials, contact us today at 877-243-5309 or use the form below.
Tags:
comparison
,
guadua bamboo poles
,
Solid Bamboo Poles
,
tonkin bamboo poles
,
trei-gai bamboo poles