Choosing the Right Sustainable Building Materials for Your Next Project
Are you ready to incorporate sustainable building materials into your next project? Choosing construction materials that are derived from readily renewable resources like bamboo, thatch, reeds, eucalyptus, and cork allows you to add environmentally friendly flair to your project without sacrificing quality, style or value. However, to get the most out of sustainable construction materials, you'll need to choose the right materials for your purposes.
Understanding The Different Sustainable Building Materials
When you choose a building material, you identify your needs, research your options, and make your selection. The same method works when you're selecting eco-friendly building materials. Determine your practical requirements with regards to factors like durability, strength, aesthetic appeal and price. Will you be using the materials indoors, outdoors or a combination of both? Then explore the many sustainable materials available to pinpoint which ones might meet your needs before making your choice. What are some examples of durable building materials that might work in your next project?
Solid Bamboo Poles
Solid bamboo poles offer an ideal blend of beauty and strength that makes them perfect for construction projects. With gorgeous hues that range from deep, rich tans to softer, honeyed shades, this versatile bamboo obviously has atheistic appeal. Thanks to its dense wall thickness, it also offers impressive strength and durability. This natural bamboo product can be used indoors or outdoors. You can choose from sanded, natural, finished and half-rounded poles. Pressure-treated and fire-retardant versions are also available.
Thatch Roofing
Of all the tropical roofing products available, thatch roofing is our favorite. Thatch roofing delivers a delightfully relaxed ambiance. It also offers more. Thatched roofing is often used as a decorative feature or it can be quite functional and suitable for a wide array of applications. Thatch roofing is an environmentally friendly way to lend personality to an indoor or outdoor space while also enjoying some significant practical benefits. Thatched roofing requires little maintenance and can be treated with a fire retardant to enhance safety. It's also thermally efficient. Because it provides a superior mix of protection and ventilation, the areas that it shelters remain cooler and more comfortable. Natural thatch roofing will transport your guests to a tropical paradise. But don't forget about synthetic thatch roofing. Synthetic thatch roofing is ideal, especially if you want a maintenance free option for an outdoor area.
Reed Ceiling Boards
With reed ceiling boards, there's no reason to settle for a boring ceiling. Crafted by gluing individual reeds to a backing board, these panels shift in color between shades of tan, beige and green with some brown mottling that adds a little visual spice. These decorative boards generate a natural and textured tropical vibe that delights the senses. Fire-retardant treatment is available.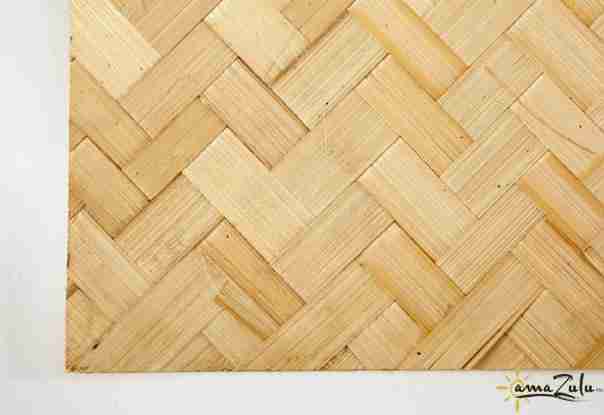 Woven Bamboo Plywood
Woven bamboo plywood merges the honey tones with some terrific texture to create something extraordinary. Narrow strips of the interior of a bamboo pole are pressed together to produce a thin, flexible sheet of plywood with a distinctive herringbone pattern. This decorative plywood shines whether you employ it as a bamboo matting wall covering for one or more walls, use it as wainscoting, or apply it as a ceiling treatment.
If you're unfamiliar with sustainable construction products, enlisting the aid of an experienced supplier can be invaluable. At amaZulu Inc., our team sources materials from carefully vetted suppliers from around the globe to deliver a dynamic menu of high-quality sustainable building materials. We have had the privilege of working with countless architects and builders to create a tropical paradise in any setting. It will be our pleasure to share our experience with you about your options and assist you with your selection process.
Contact us today at 877-243-5309 to speak with one of our designers to learn more using sustainable building materials in your next commercial project.