Tre-Gai Bamboo + Decorative Boards: The Perfect Combination
Strong Tre-Gai Bamboo + Beautiful Decorative Boards
Happy Valentine's Day! On behalf of this holiday of love and admiration, we wanted to showcase two particular products we carry that are just a match made in heaven. Together, Tre-Gai Bamboo and our various decorative boards can light up a room, add texture and creativity to an otherwise plain decor, and serve as a great conversation topic at parties. Have you been looking to spruce up a room of your house? These two products can be added to any location — bathrooms, bedrooms, pool decks, you name it.
Let us show you how Tre=Gai Bamboo and Decorative Boards are a winning combination.
Tre-Gai Bamboo
Tre-Gai Bamboo refers to a particular type of bamboo that grows in Vietnam. Unlike some other bamboos, Tre-Gai is more resistant to cracking and splitting, and it has a wall thickness of 50-100% of its diameter.
Many consider it to be one of the strongest forms of bamboo. Not only can it be used as a beautiful molding, but it's also great for support structures as well. Because its walls are so thick, Tre-Gai is resistant to cracks due to nailing, bolting, and stapling.
Tre-Gai also has a more rustic look than other bamboos as the nodes are more pronounced. Our Tre-Gai bamboo is all natural, so its colors will vary! This can create an even more rustic and tropical look for your upcoming project.
Decorative Boards
At amaZulu, we carry all kinds of decorative boards that work beautifully with Tre-Gai bamboo. Our amber bamboo board, reed ceiling board, wide weave board, and woven bamboo plywood are examples.
Each of these boards has a unique look and feel, but they all would make a stunning addition to any wall or ceiling. Used with the Tre-Gai as a molding, these boards are guaranteed to add texture, beauty, and a unique element to your home.
Amber bamboo board is formed from the malleable interior of the bamboo pole. It is cut into 1/2" strips and then smoked, which gives it that rich amber color.
It's incredibly easy to work with and can be cut into any shape and is rigid and light enough to adhere to surfaces. Some fun ideas for using amber bamboo board might be wainscoting, door and ceiling coverings, cupboard and cabinet fronts, or counter tops.
Reed Ceiling Boards are made from single reeds pressed side by side and glued onto a masonite board. They were originally created to simulate the underside of a thatched roof, but alone they are great additions to any themed decor.
Their color varies in shades of tan, green and beige, with some brown mottling. Reed ceiling boards have a different look and feel from the other types of boards we offer, but they are still sure to be a statement piece in your home.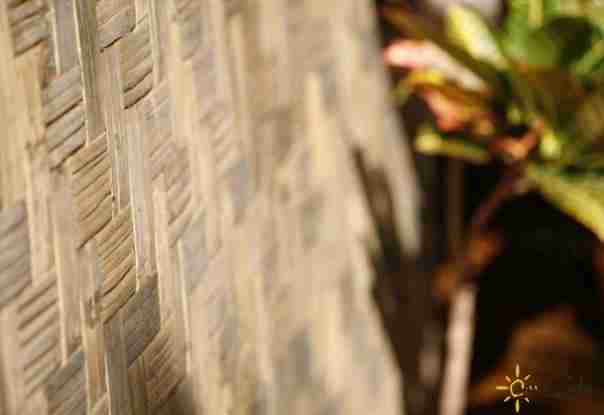 Wide weave boards are made from the exterior portion of the bamboo pole. The pols are cut into 2" strips and pressed together in an L-shaped pattern.
These boards are even more textured than our other types, which are tighter and more uniform. They're sure to add that rustic look to your home. It's easy to apply them to walls and ceilings because the board are rigid. They are also able to be cut into different shapes and sizes without fraying.
Last but not least is our woven bamboo plywood! It has a more uniform look and feel, so it is perfect for themed decor. And it's great for a room that just needs a little texture and life.
Our woven bamboo plywood is made from the interior part of the bamboo pole and is light and rigid, allowing it to be applied to walls and ceilings with ease. Like our other boards, woven bamboo plywood is easily cut into different shapes and sizes without fraying.
A Match Made in Heaven
All of these boards look beautiful as wall or ceiling treatments, and they are only made even more special with the addition of Tre-Gai bamboo as a molding.
Benefits of Bamboo
The species, Tre-Gai and Solid Bamboo, are versatile and sturdy.
Since amaZulu's bamboo products are pressure treated they are also long-lasting.
If desired, fire retardant can be added at the time of pressure treating for extra safety.
It creates an authentic atmosphere for your installations.
Natural coloring also adds to that authenticity.
Are you ready to use bamboo?
If you're interested in using bamboo, we would love to help you!
Contact us today for more information on our Bamboo products or give us a call, toll-free at 877-243-5309.
Related content and products:
Construction Grade Bamboo
Products Made From Bamboo – Solid Bamboo Poles | Bamboo Slats | Bamboo Paneling
Wide Weave Bamboo Board
Reed Ceiling Board
Why does it benefit the environment?
amaZulu, Inc. has hand selected manufacturers who produce eco-friendly, high quality natural architectural materials. Our selection presents a dynamic list of options when considering the environment.
At amaZulu, Inc., we extend our legacy beyond business to the community when we partner with domestic and international organizations that create economic opportunities to reduce poverty. We help improve the lives of the people who grow and produce our products.
Save
Save
Save
Tags:
Decorative Boards
,
Tre-Gai Bamboo