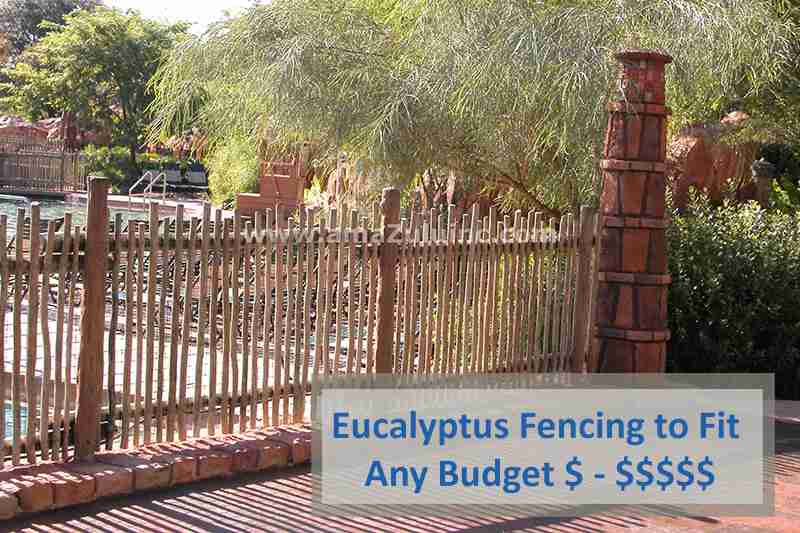 Eucalyptus Fencing to Fit Any Budget
What makes the eucalyptus fencing such a great pick for so many applications? Eucalyptus is a unique building material with aesthetic and practical appeal. Natural shades of tan, green and brown blend together to add character and depth to every eucalyptus timber. Stretches of fence panels crafted from this sustainable, environmentally friendly tropical hardwood are a visual delight. To make a good thing even better, there are several styles of eucalyptus fencing to choose from. For those who value practicality, fencing products made from eucalyptus are durable and strong. Eucalyptus fencing is easy to install and comes in a range of sizes and prices, so they can work with virtually any budget.
Which type of eucalyptus fencing is right for you?
Rustic Eucalyptus Fencing – $$$$$
At the top of budget is rustic eucalyptus fence panels. They combine a casual, relaxed feel with impressive sturdiness. Arsenic-free, pressure-treated poles that are 1 inch to 2 inches in diameter are drilled to allow a galvanized rod to thread through them. These will be used for fence pickets and are cut to three staggered heights. A polyester rope lashes around the metal in the spaces between the pickets, hiding it from view and maintaining the rustic look. Perfect for residential and commercial applications, these panels meet code requirements. Measuring 8 feet in length (custom lengths are also available), they come in heights of 4 feet, 6 feet and 8 feet.
Tribal Eucalyptus Fencing – $$$$
Constructed with a unique African design, these fence panels combine vertical, horizontal and diagonal posts to create an eye-catching primal look that will stand the test of time. Featuring eucalyptus poles that are 1 – 2 inches in diameter, the standard panels are 8 feet wide and 4 feet tall, but custom sizes are available upon request. Tribal eucalyptus fence panels install quickly; mounting them on support posts is all that is necessary.
Rail and Picket Eucalyptus Fencing – $$$
In traditional rail and picket fencing, vertical pickets are held in place by a horizontal rail. Eucalyptus rail and picket fencing follows that same blueprint to produce fence panels that are both beautiful and affordable.
Rolled Eucalyptus Fencing – $$
An amaZulu Inc. exclusive, our rolled eucalyptus fence panels feature hard-wearing poles threaded with two rows of galvanized wire which gives them the flexibility to follow curved landscaping lines or conceal an A/C unit or other unattractive necessity. It comes in 8-foot panels that are either 4 feet or 6 feet in height. Where can you use rolled eucalyptus fence panels? It's easy to install indoors, outdoors, or wherever you want to add character such as bar fronts, privacy fences or even shade structures and load ques.
Additional Reading: Rolled Eucalyptus Fencing
Eucalyptus Poles – $
Prefabricated panels make installing eucalyptus fencing incredibly quick and easy. However, it's not the only way to create stunning eucalyptus fencing. If you are on an especially tight budget or simply wish to do it your own way, eucalyptus poles can be purchased separately and strung together to create a custom fence. At amaZulu, Inc., we offer poles in lengths of 8 feet, 10 feet, 12 feet and 18 feet. Available diameters range from 1 inch to 6 inches. For added convenience and savings, these construction-grade poles come with a ground burial rating. They can be placed directly in the ground without the worry or expense of concrete.
Additional Reading: Eucalyptus Poles – Product Data
Bonus – Types of Eucalyptus Fencing
amaZulu takes pride in providing top-quality, eco-friendly sustainable building materials. Our products are globally sourced, sturdy, safe, and ready for use in commercial construction. To learn more about our eucalyptus fencing or explore other products, contact us today at 877-243-5309. Put our experience to work for you.
Tags:
eucalyptus fencing
,
Eucalyptus Poles
,
Rail and Picket Eucalyptus Fencing
,
Rolled Eucalyptus Fencing
,
Rustic Eucalyptus Fencing
,
Tribal Eucalyptus Fencing