Natural bamboo fencing products can be used in many different ways such as bamboo fence paneling, rustic bamboo fencing and trellises. Every year, vacationers from around the nation quickly head to water parks to cool off during the warmer months. And as with any water park re-opening, upgrades, enhancements and new additions arise, making bamboo rolls for fencing a perfect solution.
Types of Natural Bamboo Fencing Products
Using Bamboo Fence Paneling for Entranceways
Nothing is more inviting (and more clearly distinguishable for guests) than thoughtfully designed entranceways. Using bamboo fence panels is an easy way to accomplish a tropical look at a great price. This custom bamboo fence paneling completed for the Royal Pacific Hotel offers a sophisticated touch to its main entrance from the porte-cochère.
Bamboo fence paneling products are also a superior choice for water parks, as it is both flexible around tight corners and durable enough for outdoor weather.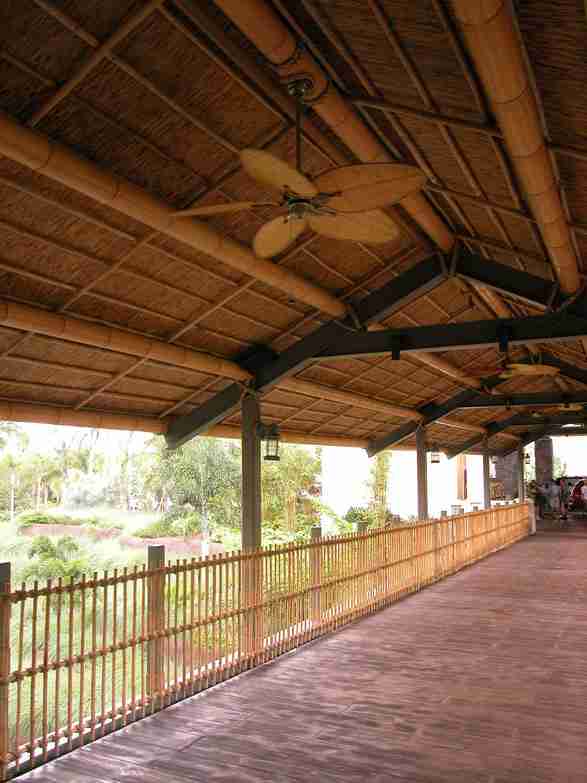 Rustic Bamboo Fencing for Walkways
This rustic bamboo fencing installed by amaZulu for Give Kids the World was the perfect nature-inspired, tropical look. Natural bamboo fencing is ideal for organizing guest lines, outlining perimeters and cladding walls on most substrates. Rustic bamboo fencing is available in both natural and synthetic and can make a huge impact on guests' experiences.
Bamboo Trellis / Open-Framework Structure
Another great option for enhancing water parks this spring is with a bamboo trellis. It's easy to create a trellis by adhereing individual bamboo fence posts.
At Lowry Park Zoo in Tampa, Florida, amaZulu installed this exotic-looking bamboo trellis, which offered added shade and texture to an otherwise plain and open space.
This natural bamboo fencing option can also be used in water parks for areas that often get a significant amount of direct sunlight, which spares guests from experiencing high amounts of heat for a prolonged period of time while waiting for rides or attractions.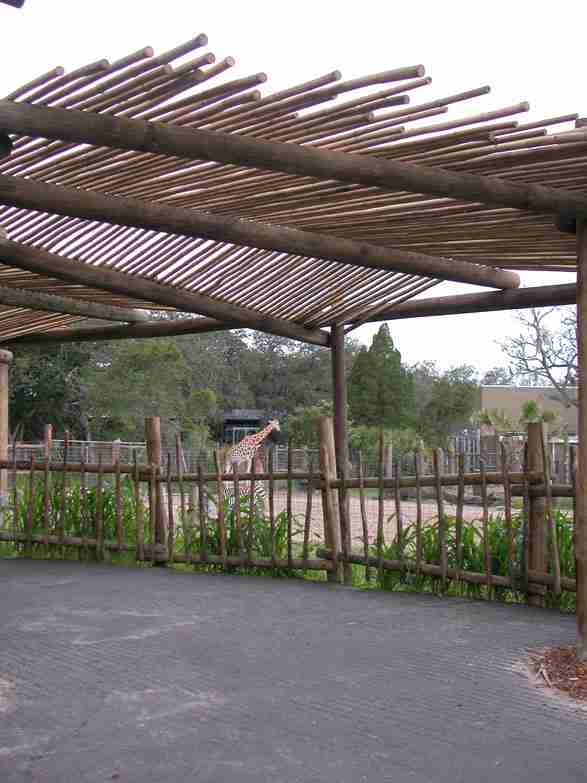 Construction-Area Bamboo Fence Screen Dividers
Privacy fencing using natural bamboo screen is also a superior choice for water parks, as they enable specific sections—like employee-only areas, HVAC zones, plumbing and electrical components, and other more unsightly sections of the park—to be tastefully tucked away.
At Discovery Cove in Orlando, Florida, our team provided a unique type of natural bamboo fence screening called peeled reed to help mask some of the back-of-house areas and make them divided from public view.
Whether you're looking to spruce up your water park's entranceway, add texture to an open space, or provide shade for a waiting area give your water park a competitive advantage this year. A customized natural bamboo privacy fence and bamboo fence screening will complete any tropical-themed look.
Additional Reading: Natural Bamboo Fencing Products
Learn more about natural bamboo fencing options amaZulu has to offer by calling 877-243-5309 today.