5 Unique Bamboo Fencing Products for Creating the Perfect Tropical Environment
Why are bamboo fencing products ideal?
From plastic to metal, there are plenty of bamboo fencing materials to select from, but few can capture the true essence of the tropics as compared to natural bamboo fencing. amaZulu, Inc. offers many types of bamboo fencing products as well as eucalyptus fencing. We've outlined the varieties of each type of bamboo fencing and their most popular applications.
If you have high-vegetation outdoor spaces as well as tropical-inspired indoor venues, natural bamboo fencing is a great solution. Consider its attractive design and affordability as well as its sustainability and durability.
amaZulu Inc. offers five thoughtfully designed fencing options. All meet standard spacing codes.
Beautiful Bamboo Fences That Help Create A Backyard Paradise
Bamboo fencing products offer versatility when creating the right atmosphere for your unique tropical space. Whether you choose bamboo fences or eucalyptus fences, you are sure to discover a wide selection of fencing products to create the perfect tropical environment.
1. Rustic Bamboo Fencing
Rustic Bamboo Fencing is an ideal choice for creating a simple, yet exotic look. Available in sturdy, yet flexible 1-inch to 2-inch poles with 1/2-inch desert sand polyester rope. Rustic bamboo fencing is perfect for your indoor or outdoor spaces.
It's also ideal for lining walkways, surrounding pools, separating large outdoor spaces and more. It features cost-effective, environmentally friendly materials.
Our Rustic Bamboo Fencing also features synthetic roping that is both decorative and beneficial to the panel's longevity.
2. Rustic Eucalyptus Fencing
Made with flexible, arsenic-free panels, our Rustic Eucalyptus Fencing features a textured, natural look.
Each piece of eucalyptus has two galvanized rods and can be customized to a variety of sizes, heights, and widths. Installation for rustic fences are quick, easy and inexpensive.
See the installation instructions for Rustic Eucalyptus Fencing
3. Tribal Fencing
Offering a traditional African aesthetic, Tribal Fences offers panels with horizontal and diagonal poles. Tribal fencing is the most popular of all our bamboo rolls for fencing products. Create an even more unique, authentic-feeling atmosphere for your venue or space with tribal fencing.
Treated with an arsenic-free chemical approved by the E.P.A., this bamboo fencing product is strong, well-constructed and simple to install. It is assembled in 4' x 8' panels and can be customized upon request.
Read more product details and photos: Tribal Fences
4. Rolled Bamboo Fencing
Rolled bamboo fencing offers an excellent choice for areas of high traffic or intense weather exposure. It is highly durable and works well for both indoor and outdoor spaces.
Pre-assembled rolls of bamboo fencing are extremely versatile and functional for many needs. It can be used as a wall accent, lining a tiki bar or pool area. If you're looking for an outdoor tiki bar building material, look no further than our favorite bamboo rolls for fencing. The options for rolled bamboo fencing are limitless.
Rolled Bamboo Fences are environmentally sustainable and come in two sizes: 4' x 8' and 6' x 8'.
See more product details and photos: Rolled Bamboo Fence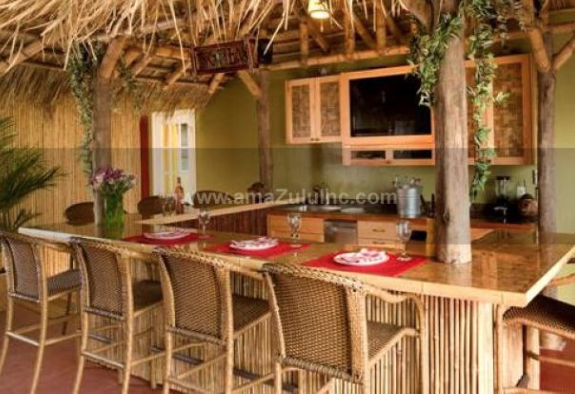 5. Tonkin Bamboo Fencing
Durable, flexible and easily installed, Tonkin Bamboo Fencing offers a clean, sophisticated look that's ideal for both indoor and outdoor spaces. Especially if you're looking into installing a bamboo privacy fence.
Each Tonkin cane pole is cured, fire-straightened and capped. This process allows the panels to last for decades without deterioration.
Select from three tasteful colors for your preferred finish, including natural, natural black, and mahogany stained.
See more product details and photos: Tonkin Bamboo Fencing
Are you ready one of these bamboo fencing products?
Consider opting for one of these five unique bamboo fencing products to create the perfect atmosphere for your indoor or outdoor paradise.
If you're interested in having the coolest fence to enhance your tropical setting, we would love to help you!
Related content and products:
Contact us today for more information on any of our bamboo fencing products or the eucalyptus fencing. Give us a call, toll-free at 877-243-5309
Tags:
bamboo fencing products
,
Rolled Bamboo Fencing
,
Rustic Bamboo Fencing
,
Rustic Eucalyptus Fencing
,
Tonkin Bamboo Fencing
,
Tribal Fencing