Strong and Sustainable – Using Bamboo as a Building Material
Ancient yet versatile – Bamboo materials are still useful
First used in China over 5,000 years ago, there are hundreds of innovative uses of bamboo materials. For millennia, humans used bamboo as a construction material and for practical products like bows, arrows, paper, and bedding. Writing tablets, building materials, and books have been produced from bamboo as well.
There is also a rich historical tradition of using bamboo for decorative purposes: floor, ceiling and wall coverings; natural bamboo fencing, functional art and furniture.
Not only does bamboo grow in many climates, but it is also a durable exterior design material across the globe. Solid bamboo poles have thick walls that are so sturdy they stand up to the most extreme elements. They are ideal for outdoor settings, regardless of the climate.
Today bamboo is a favorite building material worldwide because of it's sustainability and durability. Bamboo materials are being put to more and more uses.
What you need to know about bamboo as a building material
Here are three articles that will get you up to speed on what you need to know to work with bamboo materials. They look at why it is the perfect choice for green businesses, why it is strong and sustainable, and why faux or synthetic bamboo is also an excellent choice for a variety of applications.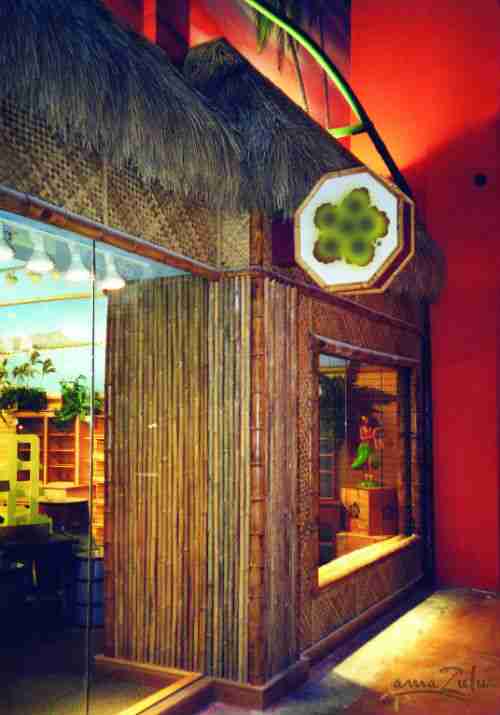 Businesses usually look for the best option that provides the highest return on investment.
We are sure this is also a concern when it comes to how you design and decorate your work environments.
Designing with Bamboo Materials:
How you decorate your office also speaks volumes about your company. Although it's important to put your best foot forward when designing your office, that doesn't mean you need to break the bank.
Are you in the hospitality business? The look, feel and overall vibe of your hotels, restaurants, and venues are the very things that you are selling your customers — an experience! Creating a beautiful space is important. And it's even more important to invest in design and decor materials that will last and provide you with a healthy ROI. That's where bamboo as a construction material really delivers.
Why using bamboo as a building material a smart investment?
It's obvious that we love bamboo, but did you know it's a smart investment? It not only creates a beautiful environment for your customers and employees, but it is also not harsh on the environment. What could be better than that? Natural and synthetic versions make a lovely, renewable, and cost-effective addition to any business.
Why is it important to use sustainable woods in building construction? If you are working toward LEED certification, materials make an enormous difference. If you are concerned about the deforestation of slow-growing trees, you should know your other options.
When you scrutinize the qualities that various woods have, you should be aware of the benefits of using bamboo. And not just as a necessary alternative but as one of the top choices for your construction projects.
Why is Bamboo a remarkable building material for construction?
Because so many businesses using bamboo as a building material, people mistake bamboo for wood, but instead, it's a large type of grass.
Several varieties make excellent timber due to their strength. 'Giant Japanese Timber' bamboo has straight, thick-walled culms (culms are to bamboo as blades are to grass)–good for splitting into boards.
'Slender crook stem' bamboo originates from China and is also very hard and durable. It is ideal for building and many other uses.
The qualities of these bamboo species are unmatched by traditional wood. In part, this is because of their incredible weight to weight ratio.
Natural bamboo materials provide a pleasing aesthetic touch to any outdoor project, such as a cabana or tiki bar. But some people may be concerned about its durability in extreme weather conditions.
Not to worry, faux bamboo poles are a great decorative option for outdoor projects. It doesn't split or crack in inclement weather or very high or low temperatures. With the addition of a marine-grade coating, faux bamboo is an excellent tiki bar building material that can be an enchanting enhancement to a poolside project and will remain water-resistant for the long term.
One project that DIY-ers and builders love using our bamboo products, which are hollow, is to conceal wiring for an outdoor sound system. The thin walls and large hollow center also allow for construction wires and pipes to be hidden within while maintaining a tropical theme. Our synthetic bamboo also fits over many kinds of fence posts.
If you want the tropical look of bamboo but need exact measurement specifications, try faux bamboo, as it does not taper. Synthetic bamboo is made to order, which means you can work with our amaZulu, Inc. sales consultants to ensure that the product works perfectly for your project.
Are you ready to use bamboo as a building material?
If you're interested in using bamboo materials in your next construction project, we would love to help you!
Contact us today for more information on our Bamboo products or give us a call, toll-free at 877-243-5309.
Related content and products:
Bamboo: Going Straight to the Source
Bamboo Building Material: Ideal for Green Business
Products Made From Bamboo – Solid Bamboo Poles | Bamboo Slats | Bamboo Paneling
Product Spotlight: Bamboo Poles
The Origins of Bamboo
How do bamboo materials benefit the environment?
amaZulu, Inc. has hand selected manufacturers who produce eco-friendly, high quality natural architectural bamboo materials. Our selection presents a dynamic list of options when considering the environment.
At amaZulu, Inc., we extend our legacy beyond business to the community when we partner with domestic and international organizations that create economic opportunities to reduce poverty. We help improve the lives of the people who grow and produce our products.
Save
Save
Save
Save
Tags:
bamboo thatch
,
building material
,
Construction Material
,
Faux Bamboo
,
Green Business
,
natural bamboo
,
Solid Bamboo Poles
,
Synthetic Bamboo